After Sanctions … Erdogan asking everyone's friendship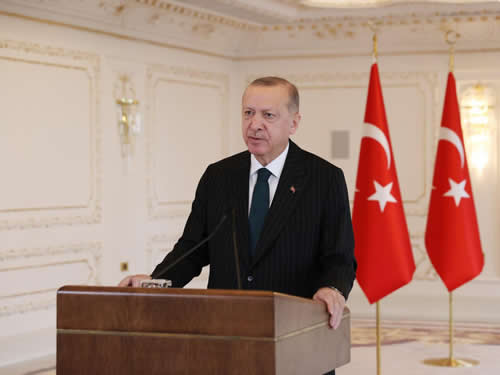 President Erdoğan : "We don't have any particular issue or insoluble problem with Europe, the US, Russia, China or any other country in our region. We are ready to meet, talk, come to an agreement and cooperate with anyone on the condition that our sovereignty, rights, laws and potential be respected."
Turkish President Recep Tayyip Erdogan promised, to carry out structural reforms in the economy and the political system, stressing his country's readiness for dialogue with everyone, provided that its sovereignty and rights are respected.
During a speech delivered by video call on the occasion of the inauguration of a tunnel between the states of Ankara and Konya, Erdogan stressed that everyone now realizes the importance of projects and services that his governments have established over the last 18 years.
Erdogan stressed that 2021 will be the year of "democratic and economic reforms," ​​and that efforts to refer reforms to parliament will proceed "as soon as possible."
He explained that the world is going through a stage of profound economic and political transformations in light of the Corona pandemic, at a time when Turkey is ready in terms of infrastructure, politically and economically for this historic transformation, he said.
And the Turkish president considered that the attempts to dissuade Turkey through using opposition groups, or activating external guidance mechanisms, and coup attempts;
It is no longer possible.
In a related context, Erdogan said that his country will assume the place it deserves politically and economically in the new world order, adding that "we do all our accounts, projects and investments in light of this."
On the external front, Erdogan said that his country opens its heart and arms to everyone who wishes to move with it towards the future, and added, "We are ready for dialogue, agreement and cooperation with everyone, provided that our sovereignty, rights and capabilities are respected."