Al-Qassam's Rockets Cover 100s of Km Between Haifa, 'Eilat'
Al-Qassam Brigades announce the launching of Ayyash 250 rocket toward 'Eilat', as Resistance factions persevere for the 18th day.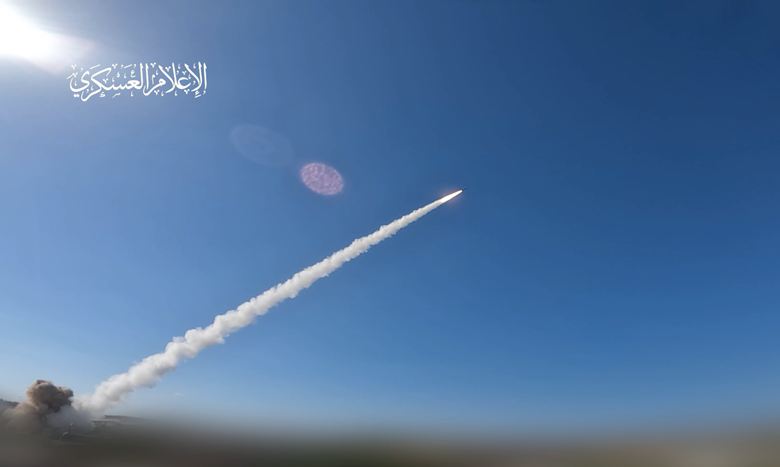 The Palestinian Resistance continued to fire rockets on Wednesday at Israeli positions and settlements from occupied Haifa to "Eilat" more than 350 km apart.
The Resistance Brigades remain steadfast
Al-Qassam Brigades
Al-Qassam Brigades launched an R-160 rocket, named after Martyr Abdel Aziz al-Rantisi, at occupied Haifa.
The Brigades also fired for the third time ever an Ayyash-250 rocket at "Eilat" in the southernmost point of occupied Palestine.
From 12:00 to 13:30 the Resistance faction targeted the occupation's "Re'im" base with rocket artillery.
They also targeted an Israeli unmanned aerial vehicle with a Mutabir surface-to-air missile in Khan Yunis.
In the afternoon, Al-Qassam Brigades targeted groupings of the Israeli occupation forces with mortar shells in "Nahal Oz".
Al-Quds Brigades
The Palestinian Islamic Jihad's military wing struck "Nir Am" in Gaza's Envelope with a rocket salvo.
Later al-Quds Brigades fired rockets toward occupied Askalan.
The attack was followed by a rocket barrage toward "Sderot".
DFLP
The National Resistance Brigades occupied Askalan with a salvo of rockets on Wednesday morning.
The Brigades also fired two mortar shells of a heavy caliber to the east of Hajar al-Deek.
The rocket attacks come in response to the continued massacring of the Palestinian people in Gaza, as the official tally indicates that there are more than 6,500 civilians were killed by the Israeli aggression on the Gaza Strip.
 Ayyash 250 covers the entirety of Palestine
The Ayyash 250 rocket fired by al-Qassam Brigades toward Eilat was first unveiled and fired by Hamas' military wing in May 2021, targeting the "Eilat-Ramon" Airport halting all flights in "Israel" in a historic first.
The rocket as per the name has an effective range of 250 km, meaning that the Resistance can now target any point in occupied Palestine from Gaza.
On October 13 this year, the rocket was fired towards Safad in northern Palestine where the IOF's northern command is headquartered.
On the 18th day of confrontations the Resistance remains steadfast in its struggle against the Israeli war machine, showing that its rocket launching capabilities are still intact.
An unverified picture circulating on social media shows an alleged al-Qassam rocket hit an open area in "Eilat" where more than 60,000 settlers have fled from Gaza's Envelope.