Al-Qudwa Tries to Reach Deal with Dahlan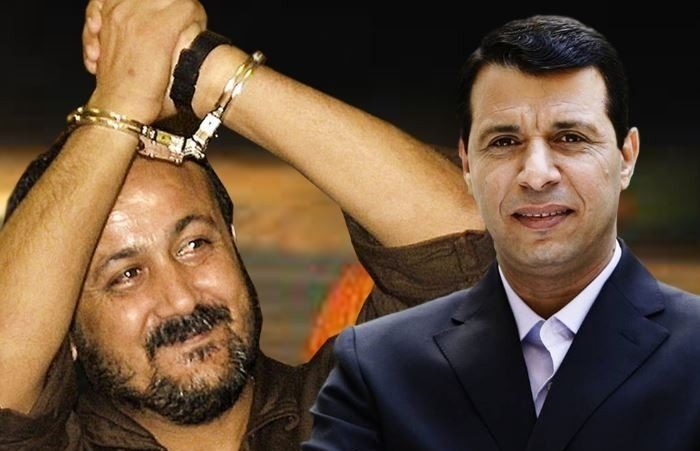 Number of Fatah movement leaders refused to participate in al-Qudwa and Barghouthi list during the negotiations to constitute it, However others announced their withdrawal, Informed sources in Fatah movement have revealed.
Nasser al-Qudwa, who was recently expelled from Fatah, announced his intention to visit Gaza to reach an agreement with Mohammed Dahlan (FATAH – DEMOCRATIC REFORM BLOC).
Barghouthi's hidden team actions came to light during central committee meetings with his wife in Ramallah on Wednesday, that Barghouthi supporters were making contact with released prisoners in Gaza Strip, who have spent more than 20 years in the occupation prisons, released in the recent exchange agreement, in order to agree to participate in the list that Barghouthi intends to form with Al-Qudwa.
However, the prisoners refused all these attempts, contacts and replied that they were committed to Fatah movement decisions that they don't intend to enter lists that would contradict the president's policy, this was clear when the list submitted to the electoral commission was empty of any names for these prisoners, and they informed the movement leadership that they received calls from Barghouthi's team.
Barghouthi's list does not include any of Fatah's known leaders in Gaza, nor those in senior positions to support his list and he doesn't have any organizational base in the strip that represents a great electoral reservoir for Fatah movement, after he failed to convince the released prisoners to support him, who confirmed their attachment to the list of legitimate movement.
Two of those whose names were mentioned in "Al-Qudwa, Barghouthi" list, engineer Raafat Saad Allah and Mousaed Abu Ajwa from Gaza, said they are not candidates on any list and declared their refusal to include their names in this list, and affirmed their support to the main movement list.
It was clear that Barghouthi list did not include any one of Fatah leaders, specially Hatem Abdel Qader, the most prominent figure who had pushed announced his support toward Barghothi.
On the other hand, Qaddoura Fares, president of the Palestinian Prisoners' Club, was nominated on the main list of Fatah movement, one of the figures known to have a strong friendship with Marwan Barghouthi, who does not support him in his plan which would divide Fatah
movement.
Qaddoura Fares had previously announced his refusal to run in elections, which affirms his supporting to the main movement list.
According to our sources, the Central Committee affiliated with the President of the Palestinian Authority, Mahmoud Abbas, who was unable to send his representative Hussein al-Sheikh to the prison to meet Marwan, inform him of the final list and to negotiate with him about it, however they contacted him and also communicated with many relatives of him including his wife, Fadwa Barghouthi who is also leader in Fatah movement, about the final list, promising to support the main list, and not to deal with others list, before they received a direct decision declared by Marwan, that he participated the Elections away from the main list.
According to a member of the Fatah Revolutionary Council, during previous discussions with Marwan, they agreed to support the movement's list in the parliamentary elections, and to discuss all the movement's options proposed by the members to participate in the presidential elections, but the official in the movement affirmed that Barghouthi from the first moment, he was planning to run for the presidency, and he wanted to impose the matter, without obtaining a majority decision from the Central Committee.
Prisoner Al-Barghouthi, and others from the organizational leaders who participated, maybe expelled.
Palestinian leader, Dr. Nasser Al-Qudwa, said on Thursday that no one can remove my belonging to Fatah status from me or Marwan Barghouthi, despite my Dismissal decision taken by political leaders. 
In an interview with "France 24", Al-Qudwa ruled out the possibility of Hamas winning in the legislative elections, noting that "the new election law will not enable them to do so."
Al-Qudwa added, "We will not stop supporting Marwan Barghouthi if he runs for the Palestinian presidency," noting that they are "ready to reach an understanding with all people, including the supporters of the democratic reform movement led by Muhammad Dahlan."
Al-Qudwa added, "It is too early to talk about the alliance with Muhammad Dahlan, who also had a decision to dismiss him by political leaders in the movement."
He said, "I will go to Gaza and spend some time, and I will discuss how things can be, the most important thing is that we want to change the existing political situation."
He stressed that the division must be ended, but without separating Gaza from the Palestinian entity, noting that "the deal concluded between Fatah and Hamas will make many difficulties ahead in the next stage."