Al-Sisi Announces his Candidacy for the Upcoming Egyptian Presidential Elections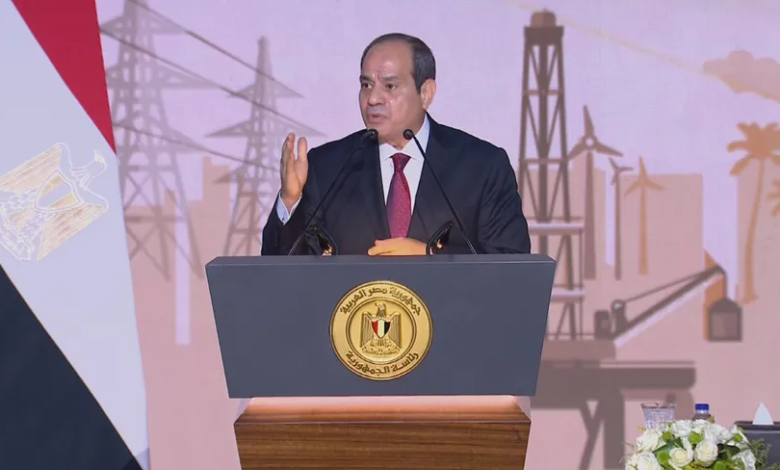 President Abdel Fattah El-Sisi, during his speech at the "Story of a Homeland" conference, which concluded its activities on Monday in the New Administrative Capital, announced his candidacy in the upcoming presidential elections in response to the call of the Egyptian people.
Al-Sisi said, "I promise you that the coming period will be an extension of our common quest for Egypt and its people, and I call on all Egyptians to actively participate in the presidential elections."
The Egyptian President announced that he followed the national dialogue with great interest, and directed the government and state agencies to study the package of outcomes produced by the dialogue.
Al-Sisi added, "I intend to continue this state of dialogue and develop political and party life, so that the state can achieve paths, alternatives, and visions on a permanent basis."
He said, "After this conference, and the numbers and facts about the Egyptian state, how it was and how it has become… I confirm that we are renewing the covenant, and there is no fear for a nation whose crescent is intertwined with its cross. Our nation is neither afraid nor broken, but rather creates pyramids for glory and a history for civilization."
He directed his speech to the Egyptians: "I faced with you and with you all the challenges and crises, and together we crossed the bridges of safety, and we are on the verge of an election that will assume responsibility for the administration of the Egyptian state, and for ten years I have only taken the initiative to summon the Egyptians, whom I call on to make these elections the real beginning of a vibrant political life that witnesses pluralism, diversity, and difference." Without overstepping or insulting."
He said, "When I answered the call and assumed responsibility, I did not possess the treasures of the earth or the collections of rosy promises. I only had faith in God, then in Egypt, and working with impartiality and sincerity, carrying with me the honor of the Egyptian military, and it was enough for me to have a medal on my chest."
The National Elections Authority has set days (1, 2, and 3) of next December as the date for holding presidential elections outside Egypt, with the electoral process being held inside Egypt on days (10, 11, and 12) of the same month.