Amber Rudd quits UK Conservatives, says Boris Johnson isn't trying hard enough to get a Brexit deal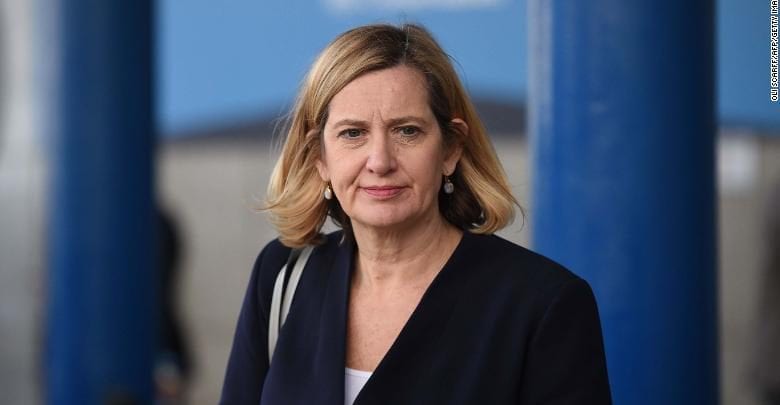 Amber Rudd, the UK's Secretary of State for Work and Pensions until her resignation, says she quit the Conservative Party because there is no evidence that Prime Minister Boris Johnson is trying to get a Brexit deal.
Speaking on the BBC's Andrew Marr show Sunday, Rudd — who resigned Saturday night — said she had "not seen enough work going into actually trying to get a deal."
"When I asked Number 10 for a summary of what the plan was for actually getting a deal, I was sent a one-page summary," Rudd said.
She said she believes Johnson is "trying to get a deal with the EU," but added that there had been a considerable amount more of resources preparing instead for a no-deal Brexit.
"It's like 80%-90% of government time going into preparing for no-deal and the absence of actually trying to work to get a deal is what has driven 21 of my colleagues to rebel, and I need to join them," Rudd told Marr.
Rudd said on Twitter Saturday night that she "cannot stand by as good, loyal moderate Conservatives are expelled."
Johnson, who has been prime minister for six weeks, expelled 21 Conservatives, including Winston Churchill's grandson Nicholas Soames and Ken Clarke, the longest serving member of Parliament, after they voted to block the Prime Minister's plan to leave the EU without a deal.
Having Rudd join Johnson's Cabinet was considered a coup for the new Prime Minister, and she was considered the most important Remainer in his government.
"I no longer believe leaving with a deal is the government's main objective," she wrote in a letter to the PM.
"This short-sighted culling of my colleagues has stripped the Party of broad-minded and dedicated Conservative MPs. I cannot support this act of political vandalism," she said.
Johnson 'will obey the law,' Chancellor says
After British lawmakers voted on Wednesday to pass a bill aimed a preventing a no-deal Brexit, Johnson said he would call for snap elections on October 15 rather than be forced to request another "pointless delay."
The bill, which was passed by the House of Lords on Friday will become law on Monday after Queen Elizabeth II approves it.
Chancellor Sajid Javid told the BBC's Marr on Sunday that Johnson "will obey the law," but reiterated that the UK will leave the EU on October 31.
Johnson "will absolutely not ask for an extension" during an October council meeting with the EU, Javid said, but instead will "try to strike a deal."
On Monday Johnson plans to schedule another vote in the House of Commons to allow him to hold an election, after he lost his first bid on Wednesday. Opposition parties came out united on Friday, saying they would not support it.
Rudd had been home secretary from July 2016 to April 2018 and previously served in the government as secretary of state for energy and climate change, parliamentary under secretary of state for climate change and assistant government whip.
Rudd has been a member of Parliament since 2010, though she won her constituency in Hastings and Rye by only a few hundred votes in 2017.
Downing Street announced Sunday that Therese Coffey would replace Rudd as Work and Pensions Secretary, according to Britain's Press Association (PA) news agency.