America warns Turkey and "Al-Sarraj government" against the attack on "Sirte"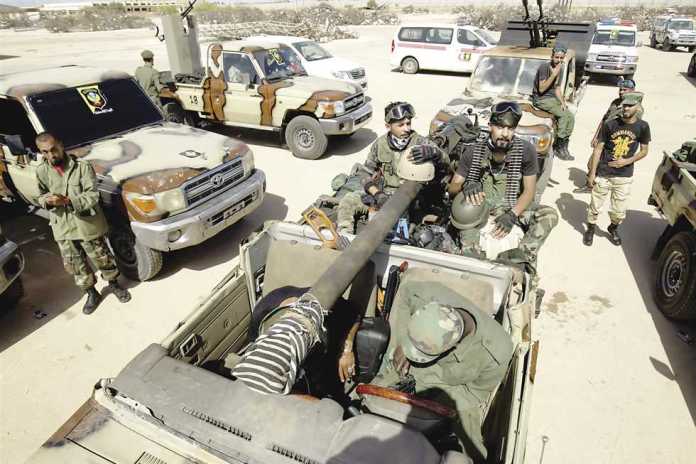 America renewed, on Saturday, its rejection of the attack, to which Al-Sarraj and the Turkish forces are preparing to attack the Libyan city of Sirte, stressing the necessity of an immediate ceasefire, while Russia invited the Libyan parliament to form a delegation to visit Moscow within days.
The US State Department called for respecting the UN arms embargo on Libya, saying: "We urge the Libyan parties to abide by the ceasefire and to resume negotiations urgently."
The State Department spokesman said in statements to the London-based Al-Sharq Al-Awsat newspaper that building on the progress made by the ongoing Libyan military talks, adding: "We informed Al-Sarraj of our rejection of the attack, which is attended by the government of reconciliation and the Turks."
The US State Department made it clear in a statement yesterday, that the hypothetical meeting that took place two days ago between the US State Department and the Al-Sarraj government stressed the need to dismantle the militias in the country.
Abdulkarim Al-Arfi, the official spokesman for the Supreme Council of Sheikhs and notables of Libya, said in an interview with Al Arabiya.net that all tribes have opened the door to volunteering for young people who want to fight against the Turkish colonists, who are eager for the country's wealth and resources. He explained that each tribe prepared through its leader and council a list of the names of young men who will be trained and armed in coordination between Egypt and the Libyan army.
He pointed to the presence of leadership in each tribe concerned to develop plans for the defense of the land and the mechanisms necessary for coordination and military plans, and the areas that the tribe will protect and secure, stressing that all tribes declared their readiness to fight, train and arm.
The Libyan parliament received an invitation from Russia to arrange a visit to a parliamentary delegation headed by Speaker of the Council Aqila Saleh to Moscow in the coming days, to discuss a number of issues, most notably the "Cairo Declaration" and the outputs of the Berlin Conference.
He stated that the Council of Elders and notables of the tribes is currently coordinating with the Libyan army before heading to Cairo within days through a delegation representing all the tribes to give thanks first to President Abdel Fattah Al-Sisi and the Egyptian people for their support to their brothers in Libya, and to announce the readiness of volunteers and Libyan youth to train and fight against the Turks and set outlines for programs Training and armament.
The second deputy speaker of the Libyan House of Representatives in Tobruk, Hamida Houmah, said in an interview with the Russian agency "Sputnik", yesterday: There is an arrangement in the beginning of next July for the visit of the president of the "representatives" to Russia. He added, "During the visit, many issues will be talked on, foremost of which is the discussion of the initiative or declaration of Cairo, as well as the outputs of the Berlin Conference, as well as the initiative of the Speaker of the House of Representatives to try to advance this direction, which is the ceasefire and the return to the political process."