Angry protesters storm the headquarters of Brotherhood Ennahda movement in several Tunisian cities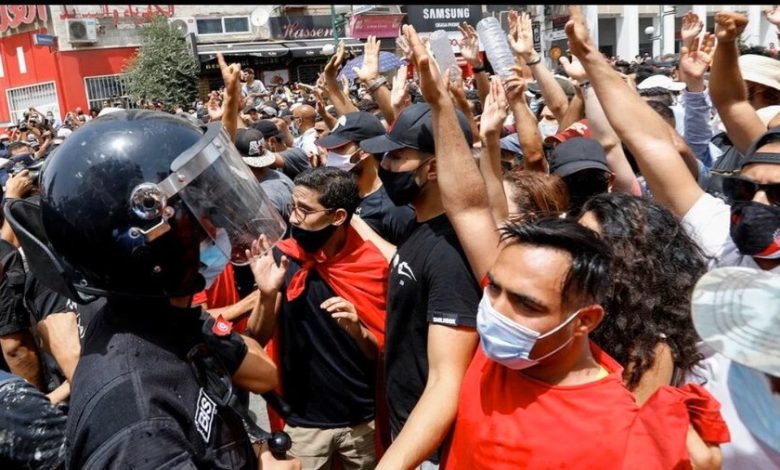 Angry protesters stormed the headquarters of the Tunisian Ennahda movement in Tozeur, Kairouan and Sousse.
The protesters gathered in front of the Ennahda headquarters in Tunisia, and they surrounded it, to express their anger at the movement's policy and its performance in managing the country's affairs. lives", and "The people want the fall of the regime." One of them also pulled out the party banner and brought it down, amid warm applause and joy from those present.
In the details, protesters gathered today, in front of the headquarters of the Ennahda movement in the coastal governorate of Sousse, and uprooted the party's banner, amid chants and calls calling for the departure of the Brotherhood and their leader in Tunisia, Rashid Ghannouchi, and demanding the overthrow of the regime.
In another scene that reflects the increase in anger and frustration towards the Ennahda movement, protesters in the southern governorate of Tozeur stormed the headquarters of the Ennahda movement and set it on fire and destroyed its contents.
In the central province of Sidi Bouzid, angry protesters brought down the Ennahda banner and set it on fire, writing in place of the banner, "Down with Ennahda" and "Free, Free Tunisia."
Today, protests took place in the coastal governorate of Sousse, Sfax (south) and El Kef (northwest), and slogans were raised calling for the downfall of the ruling class and the formation of a new government, on the 64th anniversary of Republic Day.
Many Tunisians hold Ennahda responsible for the deteriorating economic, social and health conditions, due to its failure to manage the country's affairs since its entry into power in 2011. They see the solution to saving the country as its exit from power.
In the capital, the authorities closed all roads and outlets leading to Parliament, Habib Bourguiba Street and the main streets near it, to disrupt the arrival of protesters.