Barcelona have only just got over their Lionel Messi break-up – re-signing him now is the wrong move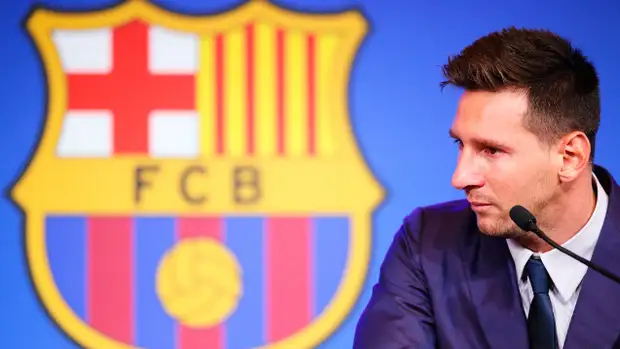 Last week, Barcelona vice-president Rafael Yuste sat in front of the press and listed all of the reasons Lionel Messi is important to Barcelona. He referenced his connection with the fans, the economic impact, and, of course, the sporting benefit of Messi's 20 years at the club.
Then, he announced that Barca are working with Messi's agent to try and bring the legend back to the club he left nearly two years ago.
It's hard not to be romantic about all of this. Messi and Barcelona are forever intertwined. They were, for so long, the perfect marriage. Childhood sweethearts who fell in love at a young age, their relationship blossomed over the years, evolving into this beautiful, seemingly unbreakable bond.
Then, in 2021, came the shocking divorce, which quite literally left Messi in tears.
He was the master craftsman who led a team to unprecedented success. There were other stars in the various versions of Barcelona in which he played, but Messi was transcendent, the constant for nearly 15 years who delivered at every single juncture.
A return to that club, to the adulation of Camp Nou, to the embrace of his former partner, is almost too alluring to turn down. But it shouldn't even be entertained.
Messi might want it — he could even need it. Barcelona, though, should avoid it at all costs.
Moving on is working
The defining moment for so many of the world's most exciting young teams in the last 18 months has been the casting aside of a declining star in the interest of a collective project.
Arsenal did it with Pierre-Emerick Aubameyang. Cristiano Ronaldo's departure from Manchester United gave the Red Devils hope. Even Ronaldo's previous exit from Real Madrid helped spark a new era.
Messi is a different player, who is perhaps more capable of lifting those around him. But the same principle still applies. After a year in the wilderness, a new, vibrant Barca has emerged this season under Xavi's management, with the signs good that a new project is beginning to pick up steam.
Welcoming a 36-year-old, admittedly declining, Messi would be a perversion of what makes this Barcelona so good. It would grind a winning team — one likely to reclaim it's La Liga crown — to a halt.
Getting over Messi
Barcelona struggled with their identity for a whole year after losing Messi. His departure spelled the end for a number of key individuals around the club. It sent manager Ronald Koeman out of the door and pushed Antoine Griezmann away.
The drama preceding the big divorce led to the collapse of Josep Bartomeu's presidency and opened up the club to massive financial scandal. It, in effect, was a step in exposing all of the bad things about an imperfect organisation.
There was, whether the club admitted as such or not, some sort of a notion that their star player could be replaced. But Barcelona found that Messi was never going to be replicated. They could perhaps find love again, but it was never going to be the same.
And Barcelona made it hard on themselves, too. They signed a series of imperfect players in the form of Aubameyang, Memphis Depay and Ferran Torres. They entrusted Luuk de Jong to lead the line, and almost sacked Xavi after being knocked out of the Europa League.
But now, almost two years down the line, Barca are better off. Those bad purchases are mostly out of the door, while a new wave of shrewd signings, paired with some young talent, has lifted the Blaugrana to the top of La Liga.
They will perhaps let their mind wander, romanticise the days when it worked so well, when it was supposed to be the two of them forever, and know that Barcelona's new romance will never be the same. But it is the differences, not the fruitless search for similarities, that have lifted them back to the top.
The Blaugrana should be onto better things. 
A maturing side
And they seem to be well on the way.
This side should be every football fan's dream. Barcelona are young, hard-working and constantly improving. They are world-class at a number of positions, but have thrived despite not having a true megastar.
And it's that lack of ego that has carried Barca this far. Their best players have willingly embraced unfamiliar roles and sacrificed personal interests in favour of the greater good. Jules Kounde, an up and coming centre-back, has switched to the right side of defence despite openly disliking the position.
Pedri and Gavi have slotted into numerous different spots in midfield, despite being the ideal box-to-box duo. Even Ousmane Dembele — rounding into form on the right-wing — switched to the left to accommodate for the more one-footed Raphinha.
This all required a hefty amount of underperformance before success. Star midfielder Frenkie de Jong was on the verge of being sold last summer. Dembele was considered a flop just 12 months ago. Even Pedri and Gavi have faced their fair share of criticism.
Barca have put in the hard yards to move past a club legend, so why go back?
Certainly, Messi the footballer still has a lot to offer. He showed at the World Cup that he can still lead a team that puts him at the centre. He is the greatest player of all time — a series of poor performances at PSG doesn't detract from that.
Barcelona admittedly lack more creativity in the final third, and Messi knows a thing or two about producing a moment of magic. But the last thing Barca need now is a player to steal the spotlight.
An imperfect fit

Messi isn't selfish in the way that some other superstars are. He does not command the ball at all times, and he doesn't need to score every single goal. But he still requires the adjustment of those around him. He doesn't play a position, as much as float between them. For Argentina, he played right-wing-ish. For PSG, it is a loose interpretation of centre forward.

Messi occupies spaces, just not the ones typically associated with attacking structure.

This is a problem, as Barcelona reportedly want their club legend to play in Xavi's signature four-man midfield.

It's that unit that has carried Barcelona so far in recent months. The manager first broke out the system in January, by means of shoehorning Gavi, Pedri, De Jong and Sergio Busquets into the same side. What looked awkward on a teamsheet ended up being a tactical masterstroke. They thrashed Real Madrid in their first contest using that system, and have only lost once since then.

There's an ideal balance to it. Gavi and Pedri do the running and creating; De Jong tackles and breaks lines; and Busquets, the elder statesman of the side, patrols the defensive third, a graceful presence who recycles possession and wins duels.

And now, one of those four will have to be sacrificed. That precious balance will be gone. And who goes? Busquets will reportedly be more likely to stay if Messi arrives, while none of Pedri, Gavi or De Jong will be in any hurry to surrender their spot.

Xavi has proven himself a smart tactician, and will undoubtedly have a plan should Messi arrive at Camp Nou. But the manager has spent 18 months getting it right. Now, he might just have to tear it all down. 

A bad allocation of cash

There are, admittedly, money issues to consider here, too. Messi's return is predicated on the assumption that Barcelona inexplicably navigate the litany of financial blocks between them and summer investment. Under-fire La Liga president Javier Tebas has, after all, preemptively asserted that Barca will be unable to make any transfer moves this summer.

It appears that Barca will need to either attract more sponsorship or clear large chunks of salary on their books to even consider being able to sign new players. Bloated contracts belonging to the likes of Jordi Alba have been mentioned as potential ones to slash. Indeed, the series of pay cuts that Sergi Roberto and formerly Gerard Pique were willing to take have done little to solve the Blaugrana's financial woes.

And if that is all somehow all figured out — likely with some sort of exception from the league — Messi shouldn't be Barcelona's priority. Xavi needs a defensive midfielder to replace Busquets. He probably also requires cover at full-back, and even a reserve centre-forward for Robert Lewandowski.

Furthermore, Barcelona still have to formally register Ronald Araujo and Gavi after handing them significant contract extensions. It will, inevitably, be a tight summer.

Should Xavi have cash on hand, then Messi is not the player Barcelona need. 

GettyImage

A memory best left untouched

Years from now, the Argentine will not be remembered for his 2022 Ligue 1 title, last-minute free-kick winner against Lille or goal in a high-profile friendly against the Riyadh All-Stars.

Instead, he will be etched into football folklore for his World Cup medal and 672 Barcelona goals. Fans will recall his hat-trick against Real Madrid in his first Clasico, or muse on the Argentine lifting his kit to the Santiago Bernabeu rafters after scoring a late goal to beat Los Blancos.

There are so many iconic moments, breathtaking goals, and mind-boggling records. And Messi cannot now improve on his past achievements. This Messi is still a very good Messi. But he is not the same Messi, or even the same kind of Messi, he was two years ago.

His Barcelona legacy should be left pure, uncorrupted by the occasional show of humanity that might come from the return of an ageing footballing alien.

And for Xavi's team, this new version of the Blaugrana, the return should be an object of sentiment, a 'what-if' best left as a daydream.

Barcelona can look at the old photos. They can reflect on the wonderful times together. But they don't need to call Lionel Messi again. That love, wonderful as it was, is best left in the past.