Brexit: Boris Johnson announces suspension of Parliament until 14 October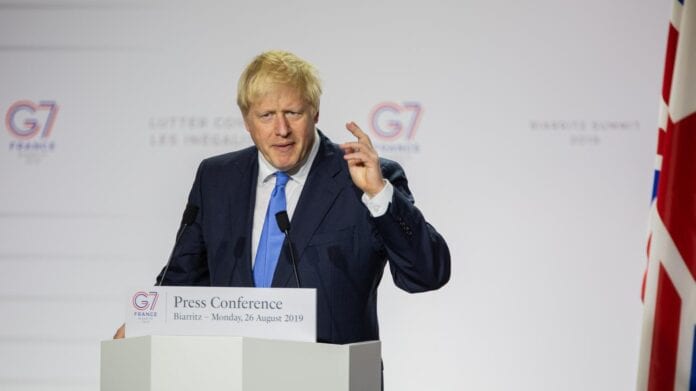 The British Parliament will be suspended the second week of September and until October 14, just two weeks before the expected date of Brexit, announced Prime Minister Boris Johnson on Wednesday, making it difficult for MPs to oppose an exit without EU agreement.
The return to parliament is scheduled for Tuesday. The Prime Minister announced that he wrote to Queen Elizabeth II asking him to suspend Parliament the following week, after the debates of 9 September, and until 14 October. The parliamentary session would then resume with the traditional Queen's speech, in which she sets out the government's agenda.
"I think it is essential that Parliament sits before the European Council (scheduled for 17 and 18 October, ed), and if, as I hope, an agreement with the EU is imminent, Parliament will have the possibility to adopt the law on withdrawal agreement necessary for ratification before October 31, "said the head of government in a statement. "The weeks leading up to the European Council are vital for my negotiations with the EU," he said, adding: "By showing unity and determination, we have a chance to win a new agreement that can be adopted by Parliament ".
Opposition denounces "undemocratic" maneuver
The parliamentary calendar set by Boris Johnson makes it unlikely that MEPs opposed to an exit without EU approval could pass laws to prevent a Brexit without an agreement on 31 October. If the British Parliament is traditionally suspended for several weeks in September because of the annual conferences of the political parties, the extension of this suspension until October 14, 12 days after the end of the last conference, that of the Tory party, provoked Outraged reactions from the opposition, who denounced an "undemocratic" maneuver.
"So it seems that Boris Johnson is about to close Parliament to impose a Brexit without an agreement, unless the MPs unite to prevent it next week, today will go down in history as a dark day for British democracy, "reacted on Twitter the Scottish Prime Minister Nicola Sturgeon. John Bercow, Speaker of the House of Commons, described Boris Johnson's decision as a "constitutional scandal".