BRICS invites Saudi Arabia, Argentina, Egypt, Ethiopia, the Emirates and Iran to join the bloc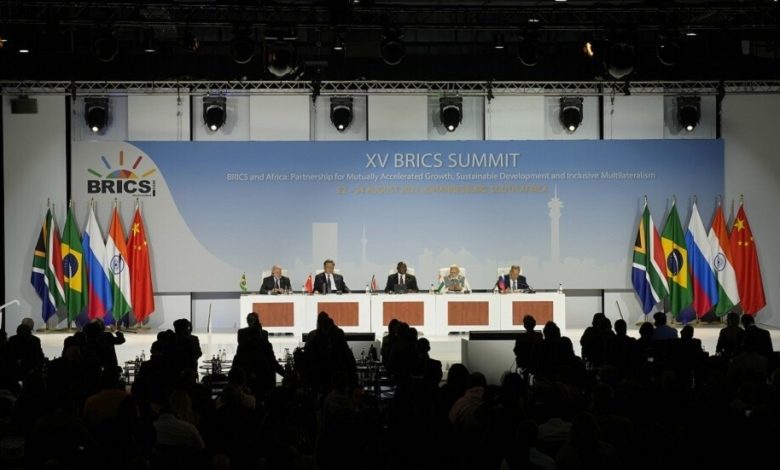 Iran, Saudi Arabia, the United Arab Emirates, Argentina, Egypt and Ethiopia have been invited to join the BRICS economic bloc.
The BRICS group of emerging economies has agreed to invite Argentina, Saudi Arabia, Egypt, Ethiopia, the United Arab Emirates and Iran to join the bloc, South African President Cyril Ramaphosa announced on Thursday. 
The group currently includes Brazil, Russia, India, China and South Africa. 
"We have reached an agreement on the BRICS expansion process," Ramaphosa said on the final day of the group's 15th Summit of Heads of State and Government in Johannesburg, which began on Tuesday.
Three of the group's other leaders are attending the summit and were with Ramaphosa for the announcement, including Brazilian President Luiz Inácio Lula da Silva, Indian Prime Minister Narendra Modi and Chinese President Xi Jinping. 
It is the second time BRICS has decided to expand.
The bloc was formed in 2009 by Brazil, Russia, India and China. South Africa joined the group one year later. The bloc represents around 40% of the world's population and contributes more than a quarter of the global GDP.
The economic bloc, which has yet to disclose its membership criteria, is seeking more weight in international institutions, which until now have been dominated by the West.
BRICS is reported to have received formal expressions of interest to join from 23 countries, including Argentina, Iran, Saudi Arabia, Bolivia, Cuba, Honduras, Venezuela, Algeria and Indonesia.