British Guardian newspaper , in a report, said that Putin humiliated Erdogan … and the last blackmail Europe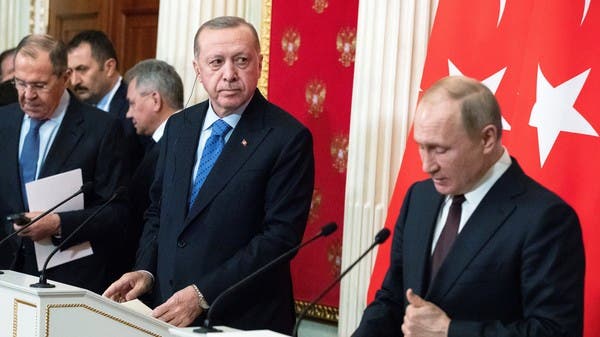 British Guardian newspaper said, in a report, that Russian President Vladimir Putin humiliated his Turkish counterpart Recep Tayyip Erdogan in an unprecedented manner and received little from him, which prompted Erdogan to pay attention to Europe and blackmail him with Syrian refugees in order to get money. 
The report says that Turkey has pressed European leaders to make new financial pledges to prevent tens of thousands of refugees from leaving the country and try to reach Europe amid a Russian-Syrian offensive in northwestern Syria.
After intense bombing in Idlib province last month, Turkish President Erdogan encouraged thousands of refugees in the country to move towards the Greek and Baltic islands, in a repeat of the wave that occurred in Europe in 2015.
That batch ended when the European Union agreed with Turkey to grant it 6 billion euros to house refugees in Turkey, as Turkey was actually given about 3.2 billion euros.
In a phone call, on Tuesday, French President Emmanuel Macron, British Prime Minister Boris Johnson, German Chancellor Angela Merkel and Erdogan gathered leaders discussed the possibility of a new refugee agreement, and ways to combat Russias threats in Idlib. Also, concerns were discussed that the Corona virus Taji could invade the refugee camps bordering Syria in Turkey, Lebanon and Jordan.
The four leaders originally planned to meet in person in Istanbul, but due to a coronavirus outbreak they settled on a 75-minute group video call.

Syrian refugees on the Turkish-Greek border
Erdogan has been accused of blackmail by some Europeans for transporting refugees toward the borders of the European Union, according to the report. Television pictures showed Greek security guards using water cannons and tear gas against migrants who tried to force their way across the border.
Greece, with the support of the European Union, suspended asylum applications for a month. Johnson's presence in the phone represents Britain's reintegration into the Syrian crisis, after excluding the United Kingdom from previous talks between Germany, France and Turkey.
Turkey has argued that the joint Russian-Syrian military offensive, which forced tens of thousands of refugees toward Turkey, made it simply impossible for them to rein in the 3.7 million refugees, but Ankara is accused of using the refugees as a blackmail to extract more money from Europe, according to the report.
Erdogan has been largely humiliated by Russian President Putin, who has refused to make concessions in his bid to expel Syrian opposition forces from Idlib province. On March 5, Erdoانan flew to Moscow in an attempt to obtain concessions, but he left only with a limited ceasefire.
Erdogan met the European Union for the first time on March 9th to discuss his demands for more money in Brussels, but no settlement has been reached.
Advocates of the 2016 European Union plan say that there is no alternative but to prepare a second plan worth 6 billion euros, and start transferring some refugees from the Greek islands and the mainland before distributing them in Europe.
The European Union has also offered cash to the refugees to leave Greek camps and return to Turkey. According to the United Nations, there are approximately 13,000 refugees stranded on the border with Greece and Bulgaria in the Turkish province of Edirne.
The talks came as Greece came under more pressure to ease severe overcrowding in migrant camps, seen as high-risk environments for coronavirus.