Brotherhood renews attempts to storm Tunisian Parliament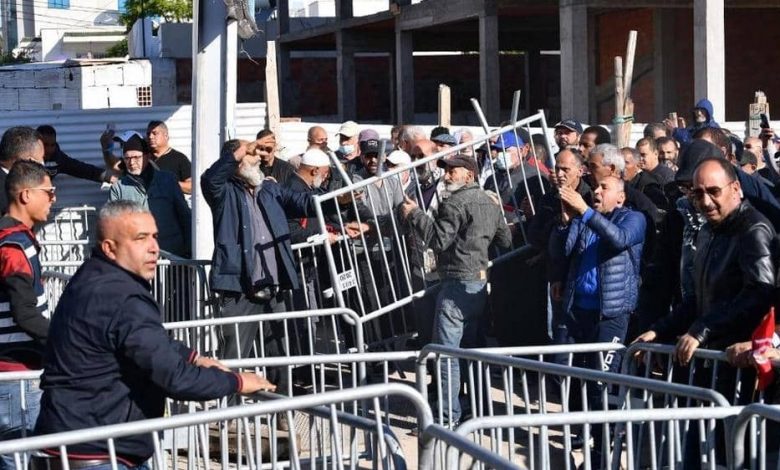 Supporters of Ennahda and the political forces allied with it gathered outside the Tunisian Parliament, whose activities were suspended.
When they tried to breach the security barriers separating them from Parliament, the security forces confronted them.
The Brotherhood's Ennahda movement tried to organize protests against Kais Saied, but they did not succeed in attracting a large number of Tunisians.
It was a political initiative that called for a demonstration in the neighboring Bardo Square, in order to demand an end to the "state of exception" decided by the Tunisian President on July 25th.
And the latest opinion polls, published last October, show Saeed topping his country's confidence rate at 77 percent.
The poll, which was conducted by the "Sigma Konsai" Foundation in cooperation with the Tunisian newspaper Al-Maghrib, showed that 91 percent of those who participated in the poll expressed their support for President Saied's decisions.
The same poll also showed that 76 percent support the decision to suspend parliament, and 75 percent support stopping all grants and privileges to the Speaker and its members.
On the other hand, opinion polls show the collapse of the popularity of the Brotherhood's Ennahda movement to only about 12 percent.
Kais Saied suspended the work of the Tunisian parliament on July 25, relieved Prime Minister Hisham al-Mashishi of his post and imposed exceptional measures that would allow him to assume wide powers.
Observers believe that Kais Saeed's popularity may be an indication of their position on the ideas that Saeed began to put forward towards amending the constitution and fundamentally changing the shape of the political system.
These exceptional decisions came based on Article 80 of the Tunisian Constitution, and as a result of the state of anger in the Tunisian street due to the deteriorating living and economic conditions, the failure of the political class to resolve these crises.