Brutality of the Turkish occupation against Kurds, Over 12,000 killed or wounded during Turkey's security operations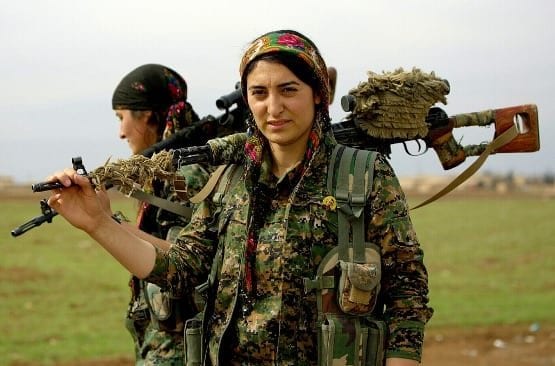 In July 2015 two-and-a-half-year-long peace talks between Ankara and the PKK fell apart, leaving a ceasefire in tatters and reviving the conflict that has killed more than 40,000 people since the 1980s.
The conflict between Turkish security forces and militants of the outlawed Kurdistan Workers' Party (PKK), designated as a terrorist organization by Turkey, the EU and the US, entered its deadliest chapter in July 2015 and took thousands of lives between then and June 2016, classified military documents obtained by Nordic Monitor have confirmed.
According to the confidential figures, dated June 30, 2016 and created by the Turkish Armed Forces (TSK), 7,869 individuals including PKK militants and civilians were killed by security forces between July 24, 2015 and June 30, 2016, while 520 members of the security forces, comprising soldiers, police and village guards, were confirmed dead in the same period.
Military document indicating the number of killed or wounded between July 2015 and June 2016.
However, the figures don't separetely indicate the number of civilians who died and show that all local residents who were killed in this time period were considered "members of a separatist terrorist organization [BTÖ]" by Turkish authorities.
Moreover, the figures include the official numbers of individuals who died or were wounded during security operations conducted under extended curfews in the urban areas of Turkey's Southeast. According to the military figures, 1,893 "members of BTÖ [PKK militants and civilians]" were killed and 568 were captured, while 137 soldiers and 61 police officers were confirmed dead under blanket curfews imposed on several towns and districts in the region. Furthermore, 961 military members and 526 police officers were wounded, the documents reveal.
Following the breakdown of the peace process, violence and armed clashes in Turkey's Southeast escalated, and Turkish security forces carried out sweeping operations and imposed blanket, round-the-clock curfews on towns and city neighborhoods, prohibiting all movement without permission. International and local human rights organizations reported that massive military operations in the region resulted in the displacement of hundreds thousands of people and the demolition of entire areas in several cities.
The military document reveals information on each curfew imposed by Turkish security authorities in the 2015-2016 period.
The military figures also provide detailed information of people who were killed or wounded during security operations in Silopi (the first curfew between December 15, 2015-January 12, 2016 and the second curfew between April 7-22, 2016), Cizre (December 15, 2015-February 11, 2016), Sur (December 19, 2015-March 9, 2016), İdil (February 16-March 9, 2016), Nusaybin (March 14-June 4, 2016), Yüksekova (March 14-April 27, 2016) and in the Şırnak city center (March 14-June 10, 2016), all which had been terminated as of June 30, 2016.
According to the figures, 164 "members of BTÖ [PKK militants and civilians]" in Silopi, 674 in Cizre, 298 in Sur, 125 in İdil, 495 in the Nusaybin, 508 in Şırnak and 197 in Yüksekova were killed or captured by Turkish security forces.
The figures claimed that two military and police officers in Silopi, 24 in Cizre, 65 in Sur, 8 in İdil, 70 in Nusaybin, 22 in Şırnak and seven in Yüksekova were killed in the clashes.
Nordic Monitor previously reported that then-Prime Minister Ahmet Davutoğlu issued a 17-point order which led to the unlawful killing of civilians, mass forced displacement of the local population, widespread destruction of private property and various human rights violations in Turkey's Southeast. The Prime Ministry circular was the highest-level order expanding security operations in urban areas and allowing Turkish authorities to use excessive force in order to "restore order and security in the region." The new documents exposed the bloody consequences of the Prime Ministry's order.
In August 2015 the PKK announced local administrative autonomy for Sur. However, the Turkish government responded with a violent crackdown and authorized police and military operations that involved the use of armored personnel carriers and increasingly heavy artillery. Local residents, caught in the crossfire, bore the brunt of the violence.
According to a Turkish Human Rights Foundation (TİHV) report, these operations affected around 1.8 million local residents, and the fundamental rights of these people were explicitly violated. The TİHV claimed that 338 civilians including 78 children, 69 women and 30 people over the age of 60 died during the security operations. Moreover, the operations since 2015 caused substantial damage to housing and business and public buildings and spaces in south-east Turkey, the Office of the UN High Commissioner for Human Rights (OHCHR) said in a report dated February 2017.
Despite the allegations reported, the government prevented independent investigations into alleged rights abuses during the security operations under extended curfews. A new regulation was passed by the Turkish Parliament on June 23, 2016 to reduce judicial oversight of security operations and erect barriers to the effective investigation of security officials.
Secret Turkish military documents revealed violations of the Turkish regime against the Kurds, which resulted in the killing and wounding of 12,000 Kurds during a year from July 2015 to June 2016.
Despite brutal violations against the Kurds, the Turkish government prevented independent investigations of human rights violations during security operations.
On June 23, 2016, the Turkish parliament passed a law prohibiting judicial oversight of security operations and setting barriers to starting an investigation with security officials.