Campaigns To Boycott Turkey's Products in Saudi Arabia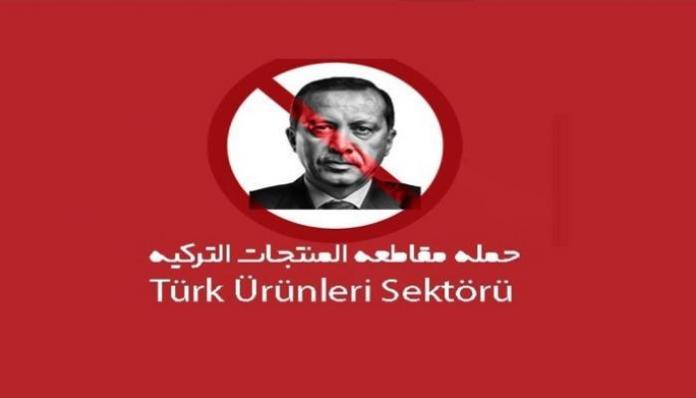 Calls to boycott Turkish products continued on social media, in response to the policies of Turkish President Recep Erdogan and his interference in the internal affairs of the countries of the region.
Hundreds of Arab activists interacted on social media with the hashtag # Boycott_Products_Turkish, at a time in which several Turkish companies admitted to the severe harm that occurred to them regarding the popular boycott campaigns aimed at stopping the purchase of their products in Saudi Arabia, and the concerned parties begged for a solution to save them.
Ajlan Al-Ajlan said in a tweet on his Twitter account: I say it with certainty and clarity: No investment, no import, no tourism … We as citizens and businessmen will not have any dealings with everything that is Turkish.
The head of the Saudi Chambers of Commerce reiterated his call to all Saudi companies not to deal with Turkish companies and products.
He added: Even the Turkish companies operating in the Kingdom I call not to deal with them, and this is our least response against the continued Turkish hostility and insult to our leadership and our country.
On more than one previous occasion, Turkish businessmen expressed their dissatisfaction with Erdogan's policies that caused the flight of foreign investors and closed major export markets in the region.
The Saudi popular boycott campaign of Turkish products comes at a very sensitive time for the Turkish economy, which is already facing a collapse in the price of the Turkish lira against the dollar, and a state of mass bankruptcy of export-dependent companies.
The Saudi journalist and political analyst, Salman Al-Shuraida, wrote through his official account on Twitter today, saying: "The Saudi and Arab people who are jealous of their homeland are boycotting Turkish products and repeating # Boycott_Turkish_products."
He continued: "We simply do not want and do not accept to deal with any company in a country that plans against our country, and its president interferes in our affairs and the affairs of Arab countries, and he always makes hostile statements against our leaders, so we do not need Turkey's goods."
An account in the name of Sarah Al-Ajmi wrote on "Twitter" saying: "Praise be to God, the people are conscious and all segments of society are committed to boycott and boycott. God does not bless weakness."
And another account in the name of Fawaz wrote: "This is what is required of all sectors of society, boycott, boycott, boycott, and may God bless your efforts."
An Egyptian activist, Basem Afaf Abdel Wahab, tweeted, saying, "Every pound you spend and buy a Turkish product that is used by the Erdogan regime against Egypt, your homeland or is spending it on a mercenary to insult your leaders."
He added, "This is the least that you can offer to maintain the security of your homeland," and I attached a picture bearing the Turkish product code to identify it.
Another activist said, "# Boycott Turkish products so that my money and money are not used to support the mercenaries that Erdogan hires to kill innocent people."
The campaigns that have reached the peak of their success during the current period, have already taught Ankara a harsh lesson of billions of dollars.
The numbers prove that the campaigns have achieved successes that exceeded all expectations, in light of the belief of the Saudi people in particular, and the Arab people in general, that every dollar spent to buy any Turkish product will return to the region with all the evils of the Erdogan regime.
The Saudi popular boycott campaign of Turkish products pushed the lira to further decline in front of foreign exchange, while market observers expect the Turkish currency to record a violent decline with the start of trading tomorrow, Monday.