Chinese foreign minister Wang Yi warns US not to provoke 'bigger crisis' over Taiwan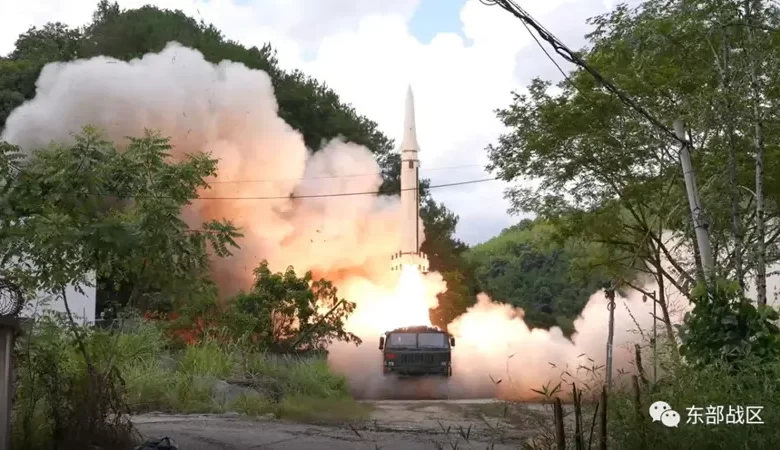 Chinese Foreign Minister Wang Yi has warned the United States not to "stir up a bigger crisis" over Taiwan – in his latest attacks following US House Speaker Nancy Pelosi's visit to the island which Beijing had repeatedly warned against.
Wang blamed Washington for creating tensions, as the visit prompted Chinese live-fire drills on an unprecedented scale targeting Taiwan, to which the US responded by increasing deployment in the region.
"The usual tactic of the US is that they first create the problems, and then use them to achieve their goal. But this approach will not work on China," Wang said on the sidelines of an Asean foreign ministers' meeting in Cambodia.
"We must solemnly warn the US not to act rashly or create a bigger crisis," he said.
Beijing's tensions with Washington and Taipei have escalated to the highest level in decades after Pelosi on Tuesday became the first US House Speaker to visit Taiwan in 25 years.
Chinese leaders had warned against the trip from the start, saying it indicated US backing for Taiwanese President Tsai Ing-wen and her pro-independence Democratic Progressive Party.
But the US insists the trip signalled no change to its Taiwan policy – which acknowledges though does not endorse Beijing's one-China principle – and has slammed the intensive People's Liberation Army drills as "overreaction".
In addition to the military drills in the seas and skies around Taiwan, expected to continue into Sunday, Beijing has also slapped sanctions on Pelosi and her direct family members, cancelled several US defense dialogues and suspended cooperation on areas such as anti-drug campaigns and climate change.
The White House summoned Chinese ambassador Qin Gang on Thursday, and "made clear" its concerns, US national security spokesman John Kirby said.
Beijing's actions "were a concern, of course, not only to us, but to Taiwan and to the rest of the world", Kirby said.
"We wanted to make sure that [Qin] knew how much the international community was also opposed to this."
He said many US allies and partners in the region were "expressing their concerns" over what Beijing was doing "and making it clear that, like us, they don't find this acceptable behaviour".
Addressing reporters at the Association of Southeast Asian Nations event in Cambodia, Wang said it was necessary for Beijing to react, as its sovereignty had been violated and its internal affairs infringed upon.
"Our military drills are open, transparent, and professional, in line with domestic law, international law, and international practice. They aim to warn the perpetrators and punish 'Taiwan independence' forces," Wang said.
"If the principle of non-interference in internal affairs is ignored and abandoned … the United States will more recklessly treat and bully other countries, especially small and medium-sized countries, with its so-called power status," he warned.
Wang also accused the US of changing the status quo of the Taiwan Strait by adding its "six assurances" to Taiwan in its one-China policy, and accused Tsai of promoting a Taiwan independence agenda.
The six assurances include a US commitment to Taiwan arms sales and not forcing the island to negotiate with Beijing.
"Isn't this a blatant change in the status quo?" Wang said.
Chinese state media also stepped up the rhetoric against Pelosi, with a scathing opinion piece from Xinhua accusing her of "six sins" including damaging the peace with her trip to Taiwan.
The article also said her visit violated the three communiqués – joint statements that form the basis of modern US-China ties – and lashed out at the US for "hollowing out" the one-China principle.
Washington has repeatedly said it only acknowledges but does not affirm Beijing's position that Taiwan is part of China. Under its one-China policy, Washington officially recognises Beijing and does not recognise Taipei.
Pelosi dismissed the claims, saying she visited Taiwan to show support for its democracy as Beijing heightened cross-strait tensions.
Xinhua also accused Pelosi of interfering with China's internal affairs and of pursuing self-interest to improve prospects for her Democratic Party in the US midterm elections in November.