Coalition: Evidence indicates Iranian arms used in Saudi attack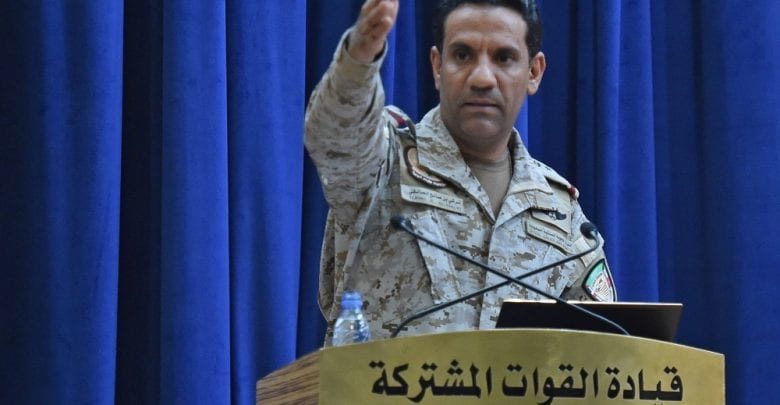 The Joint Forces Command of the Coalition to Restore Legitimacy in Yemen said that preliminary investigations indicated that the weapons used in the attacks on two Saudi Aramco oil facilities are Iranian.
The Coalition spokesperson Col. Turki Al-Maliki said that an investigation into Saturday's strikes, which had been claimed by the Iran-aligned Houthi group, was still going on to determine the launch location. The drones used in the attack were of the Ababil make, a low-technology drone, the spokesperson added.
"The investigation is continuing and all indications are that weapons used in both attacks came from Iran," Al-Maliki told reporters here, adding they were now probing "from where they were fired."
"The preliminary results show that the weapons are Iranian and we are currently working to determine the location … The terrorist attack did not originate from Yemen as the Houthi militia claimed," Al-Maliki added.
Al-Maliki said on Monday that the coalition has the ability to confront attacks, and defend vital oil facilities, and the results of the investigation would be made public to the media when complete.
Al-Maliki said the Gulf state was capable of protecting vital energy and economic sites. "This cowardly act largely targets the global economy and not Saudi Arabia."
Saturday's attacks hit Saudi Aramco oil facilities in Abqaiq and Hijrat Khurais in Saudi Arabia.
Al-Maliki's comments come a day after US President Donald Trump said that the US knows who was behind the attacks and is "locked and loaded," but is waiting for verification and for a Saudi assessment of responsibility before deciding how to proceed.
The scope and precision of drone attacks on Saudi Arabian oil facilities show they were launched from a west-northwest direction rather than from Yemen to the south, where Houthi rebels claimed responsibility, added senior US administration officials on Sunday.
US officials pointed to satellite imagery showing 19 points of impact on the oil facilities. The attacks on Saturday risk disruptions to the world's oil supplies.