Communications Cut to Flood-hit Libya City after Protests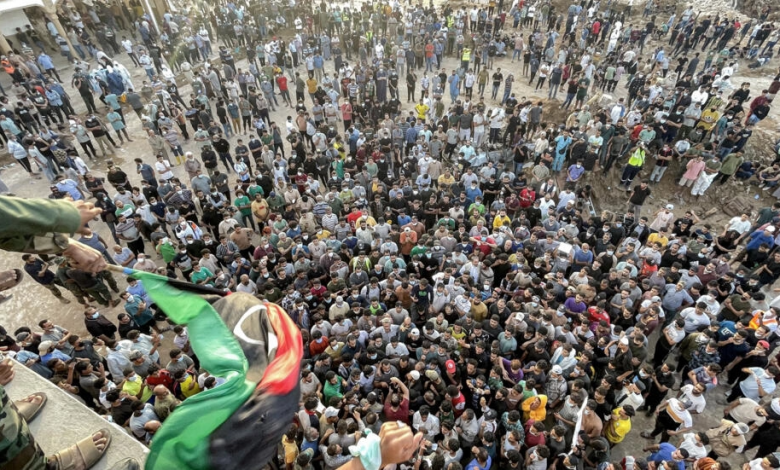 A tsunami-sized flash flood broke through two ageing river dams upstream from the city on the night of September 10 and razed entire neighbourhoods, sweeping untold thousands into the Mediterranean Sea.
Telephone and internet links provided by Libya's two operators had been disconnected in Derna since 1:00 am on Tuesday (2300 GMT on Monday), a journalist said after getting out of the city.
Authorities had asked most journalists to leave Derna and hand over permits that had allowed them to cover the disaster, the same source said.
The restrictions came after protesters had massed at the city's grand mosque, venting their anger at authorities they blamed for failing to maintain the dams or to provide early warning of the disaster.
"Thieves and traitors must hang," they shouted, before some protesters torched the house of the town's unpopular mayor.
The company said the outage, which also affected other areas in eastern Libya, "could be the result of a deliberate act of sabotage" and pledged that "our teams are working to repair it as quickly as possible".
The national telecom company LPTIC said communications were down as a result of "a rupture in the optical fibre" link to Derna.
Rescue workers have kept digging for bodies, with the official death toll put at 3,351 and many thousands more missing since the flood caused by torrential rains from Mediterranean Storm Daniel.
Fourteen rescue teams were still at work in Derna, including 10 from abroad, said Mohamed Eljarh, spokesperson for the committee leading the emergency response.
He denied rumours of an imminent evacuation of the city, saying that only the most affected areas had been "isolated".
The huge wall of water that smashed into Derna completely destroyed 891 buildings and damaged over 600 more, according to a Libyan government report based on satellite images.
Angry protest
Oil-rich Libya was torn by more than a decade of war and chaos after a 2011 NATO-backed uprising led to the ouster and killing of dictator Moamer Kadhafi.
Myriad militias, mercenary forces and jihadists battled for power, while basic services and the upkeep of infrastructure were badly neglected.
Libya remains split between a UN-backed and nominally interim government in Tripoli in the west.
On Monday, demonstrators in Derna chanted angry slogans against the parliament in eastern Libya and its leader Aguila Saleh.
"The people want parliament to fall," they chanted.
Others shouted "Aguila is the enemy of God", and a protest statement called for "legal action against those responsible for the disaster".
Al-Masar television said the head of the eastern-based government, Oussama Hamad, responded by dissolving the Derna municipal council.
'Collective punishment'
Libya watchers on Tuesday considered the telecom outage of Derna a deliberate act, intended to silence the protesters.
Emadeddin Badi, Libya specialist at the Atlantic Council, wrote on X, formerly Twitter, of a "media blockade on #Derna in place now, communications cut since dawn.
"Have no doubt, this is not about health or safety, but about punishing the protesters in Derna."
Tarek Megrisi, senior policy fellow at the European Council on International Relations, wrote on X of "extremely grim news from #Derna, still reeling from the horrific floods.
"Residents are now terrified of an imminent military crackdown, seen as collective punishment for yesterday's protest and demands."
Those warnings come as the city remains in desperate need.
Tens of thousands of residents are homeless and short of clean water, food and basic supplies amid a growing risk of cholera, diarrhoea, dehydration and malnutrition, UN agencies have warned.
"Even as we speak now, bodies are washing ashore from the same Mediterranean Sea where billionaires sunbathe on their super yachts," Guterres said.
"Derna is a sad snapshot of the state of our world — the flood of inequity, of injustice, of inability to confront the challenges in our midst."