Contradicting the Brotherhood's stances on Erdogan-Herzog meeting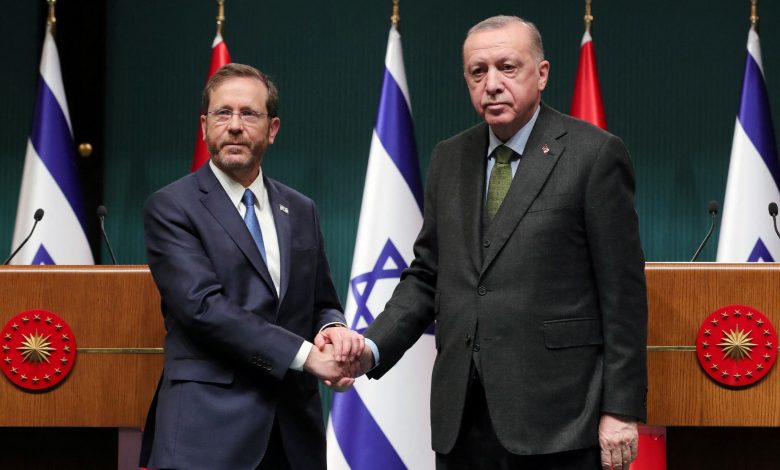 The complete disappearance of its battalions and electronic militias on the communication sites, and a brief statement by Hamas condemning what it described as "Israeli visits." This was the Brotherhood's reaction to the visit of Israeli President Isaac Herzog to Turkey and his official interview with Turkish President Recep Tayyip Erdogan.
Unusually when it comes to meetings of Arab officials with other Israelis, where the group usually launches an electronic and media attack against Arab officials after the announcement of those visits and interviews, the Brotherhood has currently ignored the visit of the Israeli president to Turkey and his meeting with Erdogan, and no official statements were issued condemning or criticizing Some of those affiliated with the group described the Turkish president's position as a "manipulator", stressing that he "carries a political tactic to preserve the interests of his nation," as they claimed.
But a few tweets, some of them brief or vague, came out to condemn the visit and the behavior and position of the Turkish president, describing it as "contradictory". Hamas also issued an official statement saying that it "follows up with great concern" the visits of Israeli officials and leaders to "a number of Arab and Islamic countries," the latest of which is "the visits of Israeli President Isaac Herzog to a number of countries in the region," without explicitly mentioning Turkey. She expressed what she described as "regret over those visits" to countries that she considered "representing the depth of the Palestinian cause."
Hamas reiterated the need to stop these visits and "return to cohesion with the Palestinian cause and unite with the Palestinian people instead of receiving Israeli officials."
For his part, Youssef Al-Qaradawi, the former head of the Union of Muslim Scholars and a prominent Brotherhood leader, came out with a mysterious tweet on his Twitter account, in which he said: "We entered the den of the West once, and we were stung by the scorpion of liberalism, then we entered again and we were bitten by the snake of socialism, even if we were truly believers. We were not stung twice from the same hole… but our faith was weak, so we were bitten again! It is really unfortunate that we were bitten twice and not considered… as if we want to stay forever in the den of scorpions and snakes." His followers demanded that he clearly answer his opinion on the visit of the President of Israel to Turkey and Erdogan's reception of him.
On the other hand, Assem Abdul Majid, a former leader of the Islamic Group and a loyalist to the Brotherhood, said in his tweets: "I was told what you think about the visit of the head of the entity to Erdogan. I said it is a golden rule that I learned in thirty whole years, and it is not affected by your words… So be silent about it." I say say this while I do not live in Turkey and I can fill the cyberspace with cursing Erdogan, and even if I were in Turkey, I and any citizen or resident could curse its president. I said, but rather affects the awakening of public opinion against them."
He continued: "If it was said, why don't you do that with Erdogan for the same goal, I said because inciting public opinion against Erdogan is the goal of the Zionists and tyrants, and not our goal or the goal of the people of religion," according to his claim.
He added, claiming: "The difference between Erdogan and others is clear, and it is like the difference between the Tatars and the Mamluks. This is with the knowledge of every sane person that Erdogan did not create a warm relationship with Israel, but inherited it from the military, and then sought to reduce it severely. ".
For his part, the Egyptian Brotherhood leader Ibrahim El-Deeb, who resides in Malaysia, said that Erdogan is practicing a "great strategy and is moving according to the higher interests" of his country, he said, adding: "Emotionally we are reservations about the visit, but the passion did not help a people and did not establish a state, but politically and practically not." We must look for interests and achieve the goals of the historical moment, in its strategic context." He concluded by saying: "Things have their purposes and achievements.. God help Turkey and agree with Erdogan."
The leader, who was sentenced to death for his involvement in cases of violence, murder and terrorism in Egypt, concluded by saying: "Erdogan's background, goals, policies, and history confirm that he is maneuvering, and even if otherwise, let this visit be one of his disadvantages, and let us put the man with his good and bad in the balance."
Israeli President Isaac Herzog visited Turkey yesterday on the first visit by an Israeli president to Turkey since 2007. He was received by Turkish President Recep Tayyip Erdogan, who said that the Israeli President's visit to Ankara was a turning point in the relationship with Tel Aviv, stressing Turkey's readiness to cooperate with Israel in various fields. Defense and energy.
Israeli President Isaac Herzog with Turkish President Recep Tayyip Erdogan in Ankara, Wednesday
It is noteworthy that Herzog's visit to Ankara and Istanbul came more than a decade after the diplomatic relations between the two countries erupted since 2010, following the killing of 10 Turkish civilians in an Israeli raid on a flotilla of aid ships for Gaza.
The two countries concluded a reconciliation agreement in 2016 that saw the return of their ambassadors, but this reconciliation soon collapsed after two years. However, recent months have witnessed a clear rapprochement between Turkey and Israel, as the two heads of state have spoken several times since Herzog's inauguration last July.