Death Toll In Turkey-Syria Earthquake May Rise To 20,000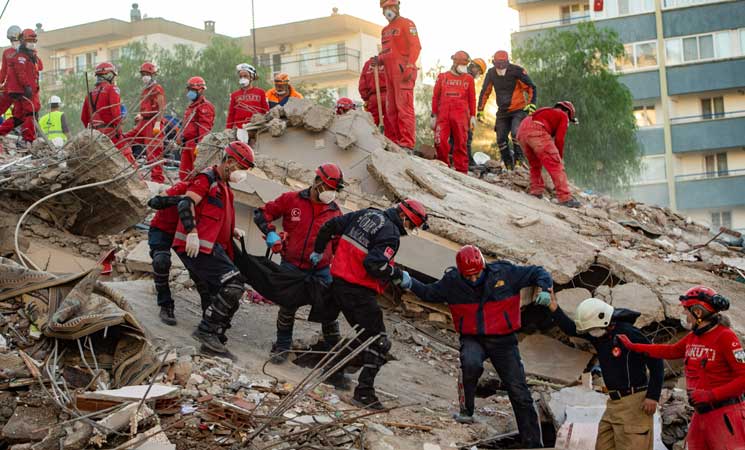 Rescuers in Turkey and war-ravaged Syria have searched through the frigid night, hoping to pull more survivors from the rubble after a 7.8 magnitude earthquake killed more than 4900 people and toppled thousands of buildings.
Authorities feared the death toll from Monday's pre-dawn earthquake and aftershocks would keep climbing as rescuers looked for survivors among tangles of metal and concrete.
Catherine Smallwood, the World Health Organisation's senior emergency officer for Europe, warned the death toll could rise to more than 20,000 people.
"We always see the same thing with earthquakes, unfortunately, which is that the initial reports of the numbers of people who have died or who have been injured will increase quite significantly in the week that follows."
"There's continued potential of further collapses to happen so we do often see in the order of eightfold increases on the initial numbers," Smallwood told our reporters.
The quake, which was centred on Turkey's southeastern province of Kahramanmaras on Monday (local time), sent residents of Damascus and Beirut rushing into the street and was felt as far away as Cairo.
Throughout the night, survivors cried out for help from within mountains of debris as first responders contended with rain and snow.
Workers carefully pulled away slabs of concrete and reached for bodies as desperate families waited for news of loved ones.
"My grandson is 1½ years old. Please help them, please… They were on the 12th floor," Imran Bahur wept by her destroyed apartment building in the Turkish city of Adana.
In Gaziantep, a provincial Turkish capital about 33km from the quake's epicentre, people took refuge in shopping malls, stadiums, mosques and community centres.
Turkish President Recep Tayyip Erdogan has declared seven days of national mourning and said his government was coordinating aid offers from other countries.
"I wish God's mercy on our citizens who lost their lives in this great disaster, and a speedy recovery to our wounded," Erdogan said in an address. "I hope we will leave these disastrous days behind in unity and solidarity as a country and nation."
US President Joe Biden conveyed his condolences to the quake's victims and offered American assistance.
"Jill and I were deeply saddened by the news of the devastating earthquakes that have thus far claimed thousands of lives in Turkiye and Syria," Biden said in a statement, referring to Turkey by its preferred official name.
Offers of help – from search-and-rescue teams to medical supplies and money – poured in from dozens of countries, as well as the European Union and Nato. The vast majority were for Turkey, with a Russian and even an Israeli promise of help to the Syrian government.
New Zealand has pledged $1.5 million worth of aid for the two countries, with $1m to be spent in Turkey and $500,000 in Syria.
The quake has piled more misery on a region that has seen tremendous suffering over the past decade.
On the Syrian side, the area is divided between government-held territory and the country's last opposition-held enclave, which is surrounded by Russian-backed government forces.
In the rebel-held enclave, hundreds of families remained trapped in rubble, the opposition emergency organisation known as the White Helmets said in a statement.
The area is packed with some 4 million people displaced from other parts of the country by the war.
Many live in buildings that are already wrecked from past bombardments.
Strained medical centres quickly filled with the injured, rescue workers said. Some facilities had to be emptied, including a maternity hospital, according to the SAMS medical organisation.
Bitterly cold temperatures could reduce the time frame that rescuers have to save trapped survivors, said Dr Steven Godby, an expert in natural hazards at Nottingham Trent University.
The difficulty of working in areas beset by civil war would further complicate rescue efforts, he said.
In the Turkish city of Kahramanmaras, rescuers pulled two children alive from the rubble, and one could be seen lying on a stretcher on the snowy ground. Turkish broadcaster CNN Turk said a woman was pulled out alive in Gaziantep after a rescue dog detected her.
In Turkey's Adana, people in emergency rescue jackets used power saws atop the concrete mountain of a collapsed building to open up space for any survivors to climb out or be rescued.
"I don't have the strength anymore," one survivor could be heard calling out from beneath the rubble, a local resident said.
At a hospital in Syria's Idlib, Osama Abdel Hamid said most of his neighbours died when their shared four-storey building collapsed.
As he fled with his wife and three children, a wooden door fell on them, shielding them from falling debris.
"God gave me a new lease on life," he said.