Demonstrations in several European cities call for the release of political prisoners in Turkey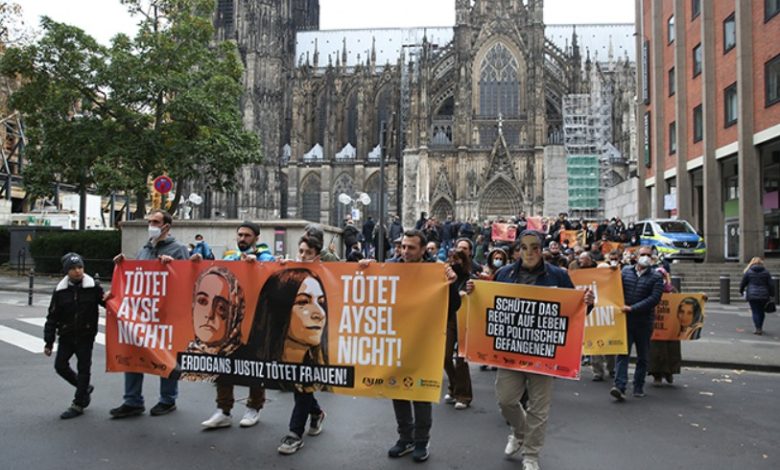 Hundreds of people around the world organized simultaneous demonstrations in 9 European cities to pressure the Turkish regime to release sick prisoners in prisons.
In the Netherlands, activists gathered in front of the Court of Justice in The Hague to demand the immediate release of sick detainees, and activists participating in the event from different cities in the Netherlands began submitting a request to the Dutch Parliament to demand Turkey to release sick prisoners.
In Germany, the Aktion für Flüchtlingshilfe, the New Germans Initiative, the Für Ludwigsburg Initiative, and in France the STOP RH organization, and in Belgium and England, many NGOs participated alongside volunteers, according to the Turkish opposition newspaper Zaman.
The consolidated statement issued by the demonstrators, in Turkish, Dutch and English, stated that the judiciary in Turkey had lost its independence and had become a means of execution by the state.
"Today we gather for justice not for ourselves, but for sick prisoners who have been neglected in Turkey. We will not leave sick prisoners waiting to die alone," the statement continued.
The statement added: "Despite being seriously ill, hundreds of people held in prisons have turned into intimidation for opponents who have not yet lost their freedom. Those detained for purely political reasons are forced to wait for days to go to the hospital, are required to undergo an examination with their hands tied, and are handcuffed to Stretchers and beds in the hospital.
The statement stressed that sick detainees, who cannot obtain medical support and treatment under prison conditions, are getting worse, but are released when they reach the point of death, calling for the immediate release of sick detainees.
According to the latest report issued by the Human Rights Association on March 31, 2020, there are a total of 1,564 sick prisoners, 590 of whom are in serious condition, in Turkish prisons.
Berlin was among the European capitals that witnessed the demonstrations, where participants pointed out that Turkish prisons host more than 600 patients whose health conditions are dangerous, noting the need for the international community to call on the Turkish government to abide by the law and the constitution.
There are also many sick prisoners who are battling a deadly disease such as cancer, as in the case of Aisha Ozdogan, who was arrested despite having cancer in the fourth stage, and about 50 people have died in prisons after being diagnosed with cancer since July 2016.