Divisions Shake Tunisia's Ennahda Party as Abdelhamid Jelassi Ennahdha's number two officially resigns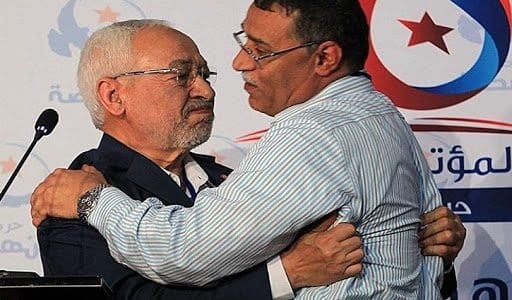 Tunisia (Arabobserver) – Abdelhamid Jelassi, one of the founders and number two of the Islamist movement Ennahdha, officially resigned on Thursday. Abdelhamid Jelassi, had clearly opposed in recent months the extensions of the mandate of the leader of the movement Rached Ghannouchi, who has led the movement since 1970.
As Ennahdha prepares for its eleventh congress scheduled for 2020, divisions are multiplying and threatening the unity of this party which won the last legislative elections but which failed to form a government. The resignations succeed one another within the Islamist party and the reasons are similar.
Abdelhamid Jelassi, the movement's number two, threw in the towel on Thursday March 5 and ended 40 years of his career within the movement. He thus joined a dozen senior executives who resigned in protest against the management of the party.
The party struck by many divisions
" I'm not ready for quarrels, " he wrote. Very critical of Ennahdha's practices, he affirms that the majority of adherents are for change. In his letter, he returned several times to the tenth party congress, known as the " controversial congress " during which the election of the executive office was done according to " loyalty and not competence ". He warns of the future of the party which could disappear like Nidaa Tounes, founded by the late president Béji Gaid Essebsi .
Ennahdha is struck by divisions. Many people criticize the Ghannouchi family accused of monopolizing all powers. Fatih Ayadi, member of the executive board, however minimizes the impact of this new resignation. For him " what happens inside Ennahdha happens in other political parties in this period of great transformations ".
The Tunisian Ennahda party has been suffering from internal divisions that threaten to shake its structures, with the latest blow coming from deputy chief Abdelhamid Jelassi, who announced his resignation on Thursday.
His decision came after several party members threatened to resign too in case the movement's 11th electoral congress is not held on time in May.
They believe that any delay would be a serious deviation from the movement's democratic path.
"Democracy inside the party is currently threatened," he said.
Jellassi had resigned from Ennahda's executive bureau on January 28, 2015.
Since 2011, a number of Ennahda leaders have resigned from the party, including Secretary-General Hamadi Jebali (March 5, 2014) as well as Secretary-General Zied Ladhari (November 26, 2019).
Several party members criticize the Ghannouchi family for grabbing decision-making powers in the movement.
Ennahda, which is led by Rached Ghannouchi, won the last legislative elections.
Ennahda spokesman Imad al-Khamiri said on Thursday that Jellassi would likely be asked to withdraw his resignation decision.
Political analyst Dunia Hafsa said the resignation would add tension inside the movement, which has always been keen on keeping its internal disputes away from the spotlight.