Egypt, Ethiopia and Sudan commit to solve dam dispute by early next year
All sides will meet four more times ahead of dam's planned launch in January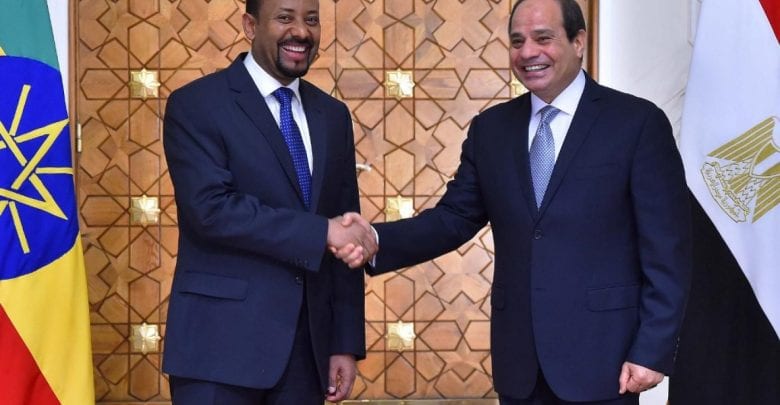 Egypt, Ethiopia and Sudan's foreign ministers have committed to reaching an "comprehensive" and "cooperative" agreement over a giant hydropower dam being built on Ethiopia's Blue Nile, the three countries said in a joint statement.
The countries' representatives met in Washington on Wednesday with both officials from the US Treasury Department and the World Bank.
The project had sparked fears in Egypt that the dam may affect the flow of the Nile – the main source of fresh water for the North African nation's 97 million people.
The statement said the countries "reaffirmed their joint commitment" to reach an agreement on the "filling and operation" of the Grand Ethiopian Renaissance Dam (GERD).
All sides will hold four more "technical meetings" with their water ministers to fully create an agreement on the mega dam.
"The foreign ministers reaffirmed the significance of the Nile to the development of the people of Egypt, Ethiopia, and Sudan, the importance of transboundary cooperation, and their shared interest," the statement said.
Ethiopia's Blue Nile river is a tributary upstream from Egypt's White Nile, and channels water into first Sudan, and then Egypt.
Egypt is also worried the dam would lower power generation at its own dam in Aswan.
The US Treasury said the United States and World Bank would take part as "observers" in future meetings as countries had committed to reaching an agreement on the GERD by 15 January 2020.
Egypt, Ethiopia and Sudan have been working on an agreement on the dam for years, with Cairo previously saying that it has exhausted any efforts to do so.
Ethiopia, on the other hand, accused Egypt of trying to sidestep the process.
For years, Egypt has viewed the Nile river as its own, saying it has "historic rights" to the river. However, Ethiopia has defended its right to build the dam, which is around 70 percent complete.
Ethiopia says it plans to use the dam to provide electricity for its 100 million people.