Egyptian media exposes Al Jazeera dubious covering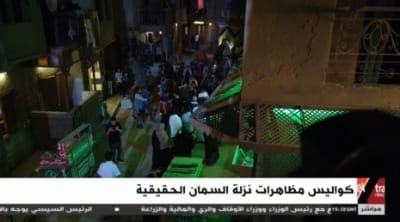 Al Jazeera was exposed Saturday in a fresh stunt pulled by the Egyptian Media Group, the Qatari-run News Agency aired a protest video as an incident taking place at an Egyptian neighborhood named "Nazlet El Samman".
However, the whole footage was staged and fabricated by the Egyptian Media Group at the Egyptian Media Production City headquarters. The video was later sent to Al Jazeera along with other Turkish news channels as a protest occurring against the government at one of Giza's neighborhoods.
The Egyptian Group announced on Saturday after the video was aired by the Qatari-run News agency that the video was a staged one from A to Z, produced by the Group to have it sent later to Al Jazeera in a bid to expose the channel's dubious covering of the news in Egypt.
Al Jazeera aired the video without taking the simplest steps to verify whether it was real or just fabricated footage, raising a lately repeated question about its integrity and professionalism.
The International CNN cast a light on the story that was circulated by Social Media platforms, mentioning that Al Jazeera aired the footage without verifying its credibility.