Egypt's Sisi, UK's Johnson agree to work to reach comprehensive settlement in Libya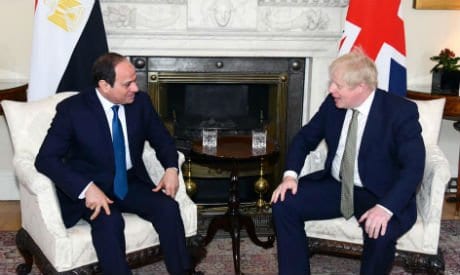 Egypt's President Abdel-Fattah El-Sisi and the UK's Prime Minister Boris Johnson agreed on consolidating efforts to reach a comprehensive settlement in Libya that involves all aspects, El-Sisi's spokesman Bassam Rady said in a statement on Tuesday.
El-Sisi met with Johnson at 10 Downing Street; the president is in London to attend the British government's UK-Africa investment summit.
El-Sisi and Johnson held closed bilateral talks, followed by a meeting with the delegations of the two countries, during which British premier stressed his keenness on enhancing bilateral relations with Egypt, and said that "Britain counts on Egypt's central and active role as a mainstay of stability in the Middle East and Africa," Rady said.
The two sides agreed to boost "joint Egyptian-British efforts, with the aim of settling the situation in Libya in a comprehensive and integrated manner that addresses all aspects of the Libyan crisis."
The two officials were among world leaders who attended an international summit on Libya in Berlin earlier this week, where key players active in Libya committed to abide by an existing UN arms embargo and stop sending weapons to the North African country.
The country is divided between two rival factions, the Tripoli-based govenment in the west and the eastern forces aligned with military commander Khalifa Haftar.
During his talks with Johnson, the Egyptian president stressed that his country is "looking forward to maximising bilateral cooperation [with the UK] in the coming period, and enhancing political and security coordination and exchanging visions on various issues of mutual interest."
El-Sisi also said Cairo is looking to boost economic ties with Britain, for more involvement from the UK in its development projects and for more UK investments in Egypt, against the backdrop of the recent reforms aimed at enhancing the country's investment climate.
The pair also discussed ways of enhancing coordination efforts on countering illegal migration and terrorism, the statement added.
Earlier on Tuesday, El-Sisi met with Prince William, and the pair discussed boosting economic and trade ties and strengthening mutual cooperation, mainly in the fields of tourism and education.
El Sisi arrived in London on Sunday to participate in the three-day investment summit, which kicked off on Monday.
"The UK is providing over £50 million between 2016 and 2020, to support Egypt's continued stability and prosperity, in addition to guaranteeing a $150 million World Bank loan to Egypt. Support focuses on inclusive economic growth, education and youth, social development, and regional cooperation.
This includes £12 million to support Egypt's basic education reforms, targeting marginalised communities," a statement by Egypt's Ministry of International Cooperation on UK-Egypt cooperation said.
"The UK will continue its support for inclusive economic growth, youth, and social development. The UK is today announcing a further £13 million for Egypt to promote inclusive economic growth by supporting the business environment and the most marginalised.
The UK will also provide £3 million to support financial inclusion and up to £8m to tackle youth unemployment in Egypt by improving the quality and diversity of higher education in Egypt," it added.