El-Halabi case exposes Israel's unjust legal system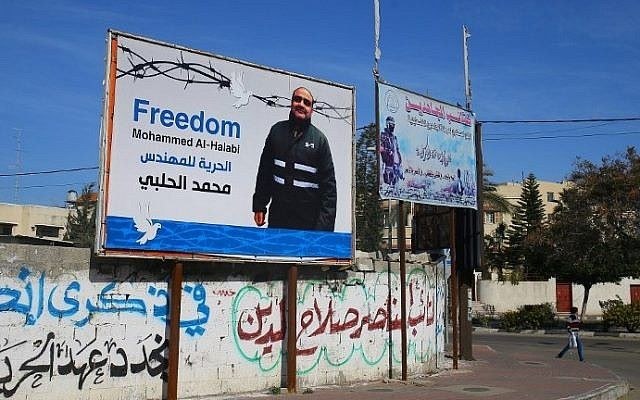 For decades, we have been told about the democratic nature of Israel and the fact it applies the separation of powers and that its judiciary is independent. But despite the long list of evidence that showed this was not the case, for some reason many continued to believe this falsehood. As a result, Israel has been able to literally get away with murder on account of it having an independent judiciary and a vibrant press that acts to ensure that democratic values are adhered to.
The case of Mohammed El-Halabi exposes this myth in a way that no other case has until now.
First, the facts of the case. In June 2016, El-Halabi, the director of the Christian charity World Vision, was arrested on his return from a staff meeting in Jerusalem. El-Halabi was known as a model public servant and in 2012 was awarded the UN Humanitarian Hero award. He was detained and tortured for more than 50 days, leaving him with a 40 percent loss of hearing. El-Halabi was accused of supporting terrorism, diverting nearly $50 million-worth of humanitarian funds to Hamas over the years, and he was also charged with treason.
The US charity's Gaza operation was closed immediately, depriving under-siege locals of support. A thorough audit of every penny spent by the charity, conducted with the help of world-class audit firms, concluded that no wrongdoing had taken place, with no money diverted. The Israeli press repeated the government's lies without much investigation. Only a few Israeli journalists were willing to publish the truth and almost no one has dared to expose the unholy alliance between Israeli security and the Israeli legal system.
In El-Halabi's 170 court appearances that have spanned more than six years, Israeli prosecutors demanded and received approval to present secret evidence and secret witnesses, and an unprecedented gag order was granted. The defense lawyer was barred from seeing some of the evidence and his ability to defend his client was restricted as he was not allowed to visit the Gaza Strip. The lawyer was also restricted in the number of pages of closing arguments he was allowed to present and he was ordered to type this on the laptop of the prosecutor and was not allowed to keep a copy.
The Israeli prosecutor made numerous and generous offers to release El-Halabi if he admitted to almost any wrongdoing, but he refused and remained in jail due to the fabricated charge of treason, which made it impossible for him to be released on bail under Israeli law.
The court was unwilling or unable to find El-Halabi innocent despite the absence of any evidence against him. The Israeli high court allowed the extension of his detention 24 times. It finally ordered the Beersheba court to make a decision by June of this year.
The court last week exonerated El-Halabi of the charge of treason but found him guilty of supporting terrorism based on a single photocopy of a supposed confession, allegedly given verbally by El-Halabi to a known Israeli collaborator. It contained information that was proven to be false.
For example, the so-called confession talks about a British grant that was diverted to Palestinian armed groups, but his defense lawyer proved that the UK did not make any contributions to Gazans. There was also a claim that he took pictures in Israel in 2009, when border records show he was never in Israel at any point that year or the year before or after.
Trying to explain this strange verdict, which will be appealed, his lawyer told the press to suppose that someone in jail said, under torture, that he assassinated an Israeli official. A confession was made under duress with the goal of easing the pain of a false event. Should a judge, or in this case three judges, find a person making such a statement guilty?
It is clear that the fabricated story of diverting funds to Hamas was made by the Netanyahu administration at a time of political upheaval and in an attempt to put further pressure on the people of Gaza. No Israeli official thought that the target would be so resilient and reject all plea bargains (unlike in 98 percent of such cases), instead insisting on his innocence.
The court was unwilling or unable to find El-Halabi innocent despite the absence of any evidence against him.

Daoud Kuttab
The El-Halabi case has shown beyond a shadow of a doubt that the Israeli judiciary is totally subservient to the Shin Bet, Israel's internal security service. There is no chance that any Palestinian can get justice or even proportional justice in the Israeli legal system.
Palestinians held administratively without charge or trial have been refusing, since Jan. 1, to appear in front of the Israeli military courts that deal with administrative detention. They argue that such participation merely legitimizes an unjust legal system that is totally subservient to the Israeli security agencies. El-Halabi's case has proven in clear and unambiguous terms that Palestinian detainees are correct to boycott the Israeli legal system.
The world, which has followed the El-Halabi case and is convinced of his innocence, must do more than just pay lip service to this so-called irregularity and treat the Israeli occupiers and their legal system in the way all occupiers must be treated. Israel's wrongful occupation and unjust legal system are no exception.