El-Sisi affirms Egypt's support for Lebanon's stability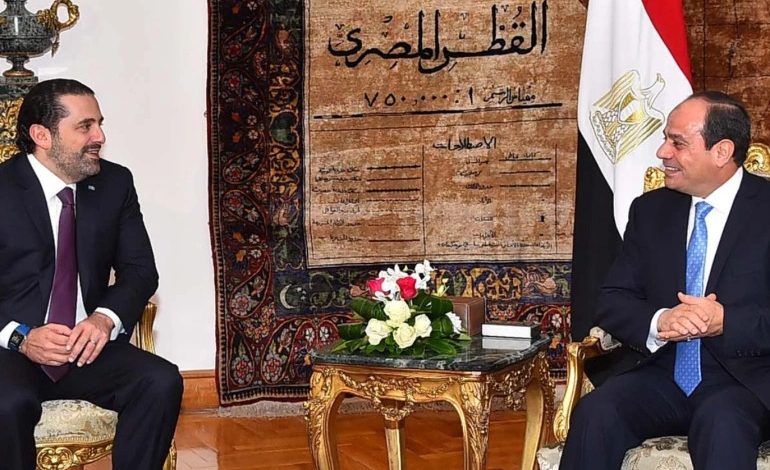 Egypt's President El-Sisi affirmed on Wednesday Egypt's support to the political path of Lebanese Prime Minister-designate Saad Al-Hariri aiming to restore stability in the country and tackle the current challenges, a statement by the Presidency read.
Sisi, during the meeting, highlighted the need for concerted endeavors to settle any disputes in terms of the government formation efforts in order to get Lebanon out of the current state it is suffering from.
This comes through prioritizing Lebanon's national interests in a way that preserves the resources of the Lebanese people and their national unity, the statement added.
Hariri, for his part, hailed Egypt's sincere and tireless efforts to mobilize international support for Lebanon at all levels in light of the continuity of the hard challenges the Lebanese people are facing, especially at the political and economic levels, the statement read.
Hariri expressed Lebanon's appreciation of the firm historic relations linking the two countries, which are based on solidarity and brotherhood.
The meeting reviewed the political scene in Lebanon in addition to the means to enhance the ongoing bilateral cooperation between Egypt and Lebanon, the statement added.
The Lebanese premier also voiced his country's appreciation of the vital Egyptian role as a main pillar for preserving stability in Lebanon and the whole Arab region.
They also discussed the most prominent regional developments, the statement noted.
Hariri on Wednesday also met with Foreign Minister Shoukry, who reiterated Egypt's support to Lebanon so that it can overcome the current situation.
During the meeting, Shoukry affirmed the need for all Lebanese parties to prioritize Lebanon's higher interest over any narrow interests, a statement by the Egyptian Foreign Ministry read.
February meeting
Hariri also met with Sisi in February in Cairo. Sisi during the meeting stressed Egypt's keenness on protecting the Lebanese state and getting the country out of its current crisis through having all Lebanese leaders put forward the national interests.
Sisi also stressed on settling disputes and accelerating efforts to form an independent government capable of dealing with the ongoing challenges.
Hariri said that his country significantly appreciated the stable historical relations with Egypt which are based on solidarity and brotherhood and praised Egypt's experiment for placing the economy and development as the top priority.
Sisi wished Hariri all success in forming the recent government in a way that achieves the aspirations of the Lebanese people in establishing security and stability.
He praised Egypt's strenuous efforts to support Lebanon in all arenas in light of the ongoing tough challenges the people are facing particularly at the political, economic, and humanitarian levels, the spokesman added.