El-Sisi awaits competitors ahead of Egypt's landmark presidential election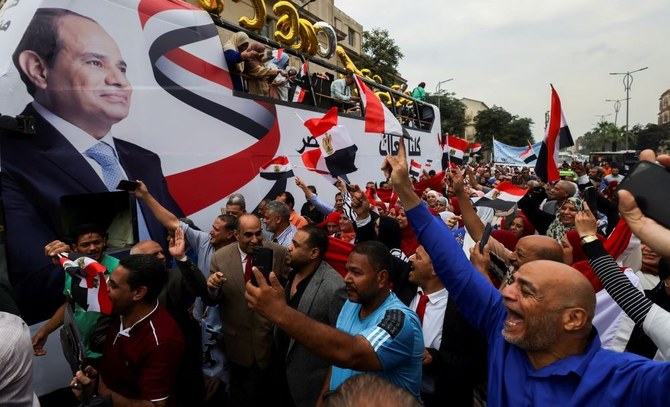 Egypt is set to hold a presidential election in December, with incumbent Abdel Fattah El-Sisi confirming that he will stand for a third term in office during this week's closing session of the Hikayat Watan conference held in the New Administrative Capital.
He emphasized his commitment to fulfilling Egypt's dreams in this new term and pledged to continue his efforts for the country and its people.
His announcement followed weeks of widespread advertisements advocating for his candidacy in the streets and media.
Other potential candidates have also emerged, including Abdel-Sanad Yamama, leader of the liberal Wafd Party, Hazem Omar, head of the Republican People's Party, and Farid Zahran, head of the Egyptian Social Democratic Party. These candidates have met the nomination criteria, having gained the support of more than 20 MPs.
Additionally, Ahmed Tantawy, the former president of the Dignity Party, is working to gather more than 25,000 popular endorsements from citizens eligible to vote in at least 15 governorates, which is an alternative requirement for candidacy.
The next president will face the challenging task of addressing Egypt's complex economic issues. The country has been grappling with economic problems and these challenges have been a topic of discussion in daily life, in media outlets and on social media.
Economists and politicians in Egypt attribute part of this economic crisis to global challenges, including the COVID-19 pandemic's lockdowns and trade restrictions, as well as the ongoing Russia-Ukraine conflict, the duration and consequences of which remain uncertain. They argue that even the world's strongest economies have faced consecutive crises, leading to debates in the US Congress, for example, over economic measures and defense spending priorities.
Some also point to issues within Egypt's own economic policies, questioning spending priorities that may not necessarily benefit the citizens.
Therefore, it is not surprising that El-Sisi and the other potential candidates are focusing on addressing the country's economic challenges in their speeches and campaign messages.
Many political forces, as well as the supporters of El-Sisi, believe that him continuing the tasks he has started would be the best solution. He assumed office in 2014 and has since launched significant economic projects, with the most prominent being the New Suez Canal project, which serves as a crucial source of foreign currency for Egypt. Additionally, there is the New Administrative Capital project and other initiatives involving land reclamation and enhancing road and transportation networks throughout the country to boost development.
Supporters of El-Sisi believe that he is the essential candidate and the most suitable person to complete these development plans. They argue that the president, through his continuous engagement, demonstrates a deep understanding of the country's affairs.
They also believe that the upcoming years hold the promise of reaping the benefits of these projects for all Egyptians and it is the president's right to continue them according to his vision and the vision of those who have formulated the development plans.
Opponents of the current administration argue that the development plans were not meticulously thought out and economic measures have negatively affected people's income sources, leading many citizens into a cycle of economic hardship. They are also concerned about declining growth rates and rising external debt levels, which have reached record highs.
Regardless of such differing perspectives, the next president faces a substantial responsibility to address Egypt's economic challenges with innovative solutions, rather than relying solely on slogans, assurances or acknowledgments of the difficult situation. It is a daunting task that requires careful consideration and proactive action.
The preliminary list of candidate names and the number of supporters and endorsers of each will be published on Oct. 16. The scrutiny of candidacy applications and the settlement of objections will take place from Oct. 19 to Oct. 21. Candidates who are disqualified will be notified of the decision and the reasons behind it on Oct. 22. Until this date arrives, candidates are expected to gradually disclose their positions on various pressing issues.
El-Sisi exudes confidence on a range of issues. He urges the people to display patience and faith, emphasizing that the initiatives he has launched during his presidency will prove beneficial for the nation. He underlines his role as a symbol of security and safety for Egyptians, especially in light of the political turbulence between 2011 and 2013.
Meanwhile, Omar echoes his backing for the evolving priorities of the Egyptian state, recognizing the stable and secure environment, albeit facing distinct challenges compared to past security threats. Omar's previous statements consistently reaffirmed his support for El-Sisi and the projects initiated under his leadership.
Yamama consistently emphasizes his support for both the state and the president. He firmly denies any disagreements with El-Sisi regarding security and foreign policy, instead focusing on differences in economic strategies. Regarding his electoral agenda, Yamama asserts that he possesses a comprehensive plan to tackle Egypt's economic and political issues. However, he has yet to reveal the specifics, indicating that his official candidacy for the presidency is a certainty, not merely a possibility.
The next president will face the challenging task of addressing Egypt's complex economic issues.

Dr. Abdellatif El-Menawy
Zahran leans toward endorsing his party's liberal perspective, highlighting the importance of wealth redistribution to benefit the working class within a market-driven economy. He takes issue with the current government's economic policies and asserts that he has developed a specialized program in cooperation with specialists from various domains.
In contrast, Tantawy stands out as a vigorous critic of the current leadership. He says his electoral program encompasses political, economic and social dimensions, complete with specific programs and strategies. The finer details will be unveiled during a press conference after he has gathered the necessary endorsements for his presidential candidacy.
Further candidates have announced their intention to run despite not having a strong presence either in the public sphere or within parliament. These include Gameela Ismail, the current head of the Constitution Party, and Ahmed El-Fadaly, head of the Democratic Peace Party and the Independence Current.
The forthcoming presidential election will have significant importance for several reasons. Firstly, it comes at a critical economic juncture, with citizens eagerly anticipating tangible improvements. Secondly, the election will be the first to be held in accordance with the amended constitution, which extends the presidential term to six years. And thirdly, it will significantly shape the future parliament, which will be responsible for enacting many laws that Egyptians hope will be in their favor.