El-Sisi Affirms Egypt's Support for Al-Dabaiba Gov`t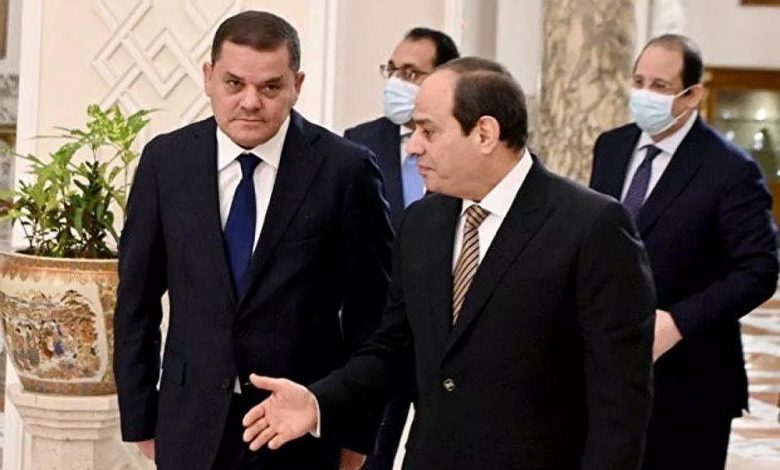 President Abdel Fattah El Sisi telephoned Abdel Hamid al-Dabaiba, Head of the new Libyan government of national unity.
The President expressed his sincere congratulations to al-Dabaiba for his government's obtaining of the confidence of the Libyan Parliament, according to Presidency Spokesperson Bassam Rady.
Sisi pointed out that the parliament's vote on the new government represents an important historical step on the way to settling the Libyan crisis.
He stressed Egypt's full support for the Libyan government headed by al-Dabaiba, and the willingness to provide its expertise in areas that would achieve political stability. Sisi also confirmed readiness to participate in the implementation of development projects in Libya, which represent a priority for the Libyan people.
The president affirmed his confidence in al-Dabaiba's ability to manage the current transitional phase, achieve comprehensive reconciliation between Libyans, and unify Libyan institutions in preparation for holding national elections on December 24.
For his part, Dabaiba thanked o the president for his congratulations, expressing appreciation for the sincere role and the effort that Egypt is undertaking to settle the Libyan crisis.
Al-Dabaiba confirmed the distinction of relations between Egypt and Libya, the historical ties between the two peoples. He affirmed and his government's keenness to continue pushing forward the intensive cooperation, consultation and coordination relations with Egypt.
Al-Sisi stressed the need to build on these positive steps, by working to push the path of political settlement and maintain the atmosphere of the Libyan-Libyan dialogue, in a way that limits foreign interference in this regard.
In the same context, the president telephoned Mohamad al-Mnifi, Head of the Libyan Presidency Council. The President congratulated him on the formation of the new Libyan executive authority.
For his part, Al-Mnifi expressed his appreciation for the congratulations of the President, and the sincere Egyptian efforts to restore security and stability and achieve development in Libya.
He stressed the new Libyan executive authority's keenness to continue strengthening cooperation between Egypt and Libya, and consolidating their foundations, in a way that achieves the common interests of the two countries.