Erdogan flirts Israel by fighting Hamas for warmer relations with Israel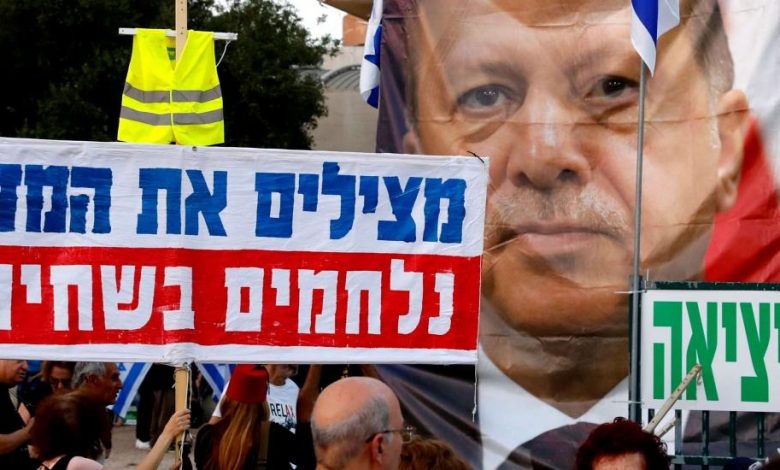 Israeli officials are seeing Turkish regime President Recep Tayyip Erdogan's recent proposition of a meeting in Ankara with his Israeli counterpart Isaac Herzog as a "testing ground" for a future improvement of ties with Israel, according to a report Sunday.
Erdogan said Herzog would visit in early February, but did not offer other details about the trip. A spokesperson for Herzog declined to comment on Erdogan's announcement, but officials have confirmed talks on a visit, speaking on condition of anonymity.
An Israeli official quoted by the Haaretz news site described the potential meeting as an "indicator" of the Turkish president's intentions.
Another official said: "The decision is being formed to change ties with Turkey from 'frozen' to 'cool.' All kinds of symbolic things can happen. For example, an exchange of ambassadors or economic deals. But we won't move ahead without clear things in return from Turkey."
The countries withdrew their ambassadors in 2010 after Israeli forces stormed a Gaza-bound flotilla carrying humanitarian aid for the Palestinians that attempted to break an Israeli blockade, those onboard a Turkish ferry boat violently resisted the Israeli action, resulting in the deaths of nine Turkish activists.
Relations slowly improved but broke down again in 2018, after Turkey, angered by the United States moving its embassy to Jerusalem, once more recalled its envoy from Israel, prompting Israel to reciprocate.
However, one official quoted by Haaretz said that Erdogan has "demonstrated his seriousness" with several recent actions taken recently: the release of Natali and Mordy Oknin — an Israeli tourist couple arrested in Turkey last year for spying — as well as recent efforts to restrict Hamas activities in his country.
"Erdogan is showing very positive signals in fighting Hamas in Turkey," the official said. "This is very significant because from our perspective, this is one of the main issues that prevent us from upgrading relations – the fact that he hosts a terror organization."