Erdogan Hosts Burhan as Conflict in Khartoum Drags On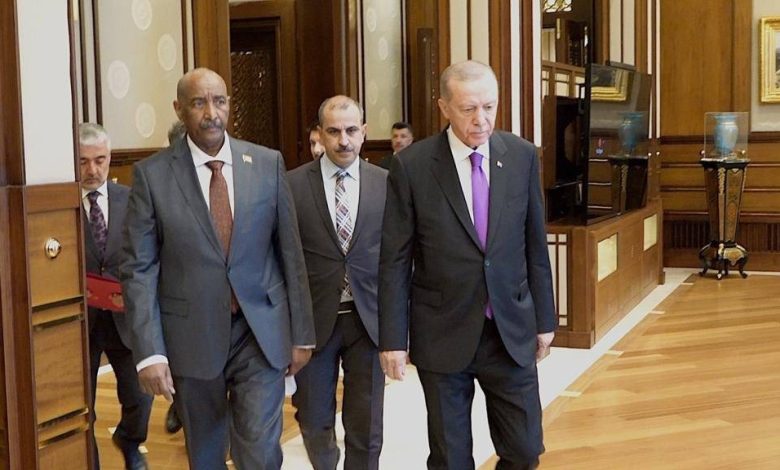 Recep Tayyip Erdogan on Wednesday hosted Sudan's military chief, Gen. Abdel Fattah Burhan, as the latter seeks international support against the Rapid Security Forces (RSF), a paramilitary group led by Burhan's former deputy Mohamed Hamdan Dagalo, who is challenging his power.
Burhan's visit to Ankara is the first since the fighting between his forces and Dagalo's — also known as Hemedti — started in mid-April, leaving more than 4,000 killed according to the Sudanese health ministry. 
There was no press conference following the meeting but Turkish Foreign Minister Hakan Fidan said Erdogan and Burhan discussed ongoing international efforts for a permanent truce between the warring parties as well as the humanitarian crisis engulfing the country.
"We support all bilateral and international efforts aiming at ending the war," Fidan told journalists on Tuesday. 
Fidan also said the two discussed how Turkey could help with the humanitarian, economic and other crises in Sudan while the clashes were continuing. 
Erdogan reiterated Turkey's readiness "to do everything in its power if there is anything we can do for peace," Fidan said, including hosting negotiations between the warring parties.  
According to a statement by Burhan's office, Sudan's Foreign Minister Ali al-Sadiq, intelligence chief Ahmed Ibrahim Mufaddal and Director General of the Defense Industries Corporation Mirghani Idris Suleiman also accompanied Burhan during the visit. 
Regional and global efforts to achieve a truce between Sudan's Armed Forces (SAF) and the RSF have yielded little progress so far. At least 4,000 people were killed in the clashes, the World Health Organization said in August, but the death toll is much higher, according to local medical organizations. 
Turkey is the fifth country Burhan has visited since April when the bloody clashes broke out, according to Agence France-Presse. The Sudanese army chief also visited Egypt, South Sudan, Qatar and Eritrea, as he seeks to garner regional support for his forces against the RSF — the opposing paramilitary group — ahead of the UN General Assembly session next week. 
The fighting also displaced nearly 5.1 million people inside and outside Sudan, with more than 1 million crossing into neighboring Central African Republic, Chad, Egypt, Ethiopia and South Sudan, the UN said last week.
In May, the warring sides inked a seven-point declaration, pledging to safeguard civilians and respect international law, but according to the UN and human rights watchdogs, neither side has lived up to their commitments. 
In a statement on Wednesday, the UN humanitarian coordinator in Sudan reiterated international calls on hostile factions to respect international humanitarian law and take immediate steps to protect civilians.
"The ongoing killing of civilians in Khartoum, Nyala, Al Fasher and other areas underscores the fact that the parties to this conflict are not honoring the pledges they signed up to on 11 May or the fundamental rules of international law underpinning them," the statement said. "The people of Sudan have suffered far too much already."