Erdogan is the biggest loser in Berlin Summit … mercenaries and Turkish intervention is under control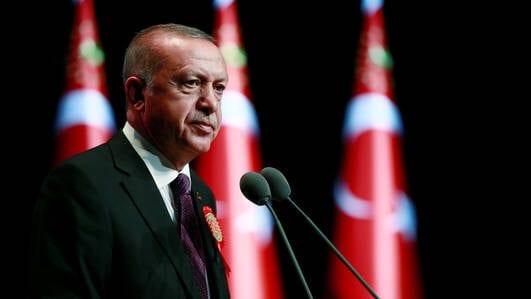 In the end of Berlin Summit which discussed the Libyan crisis and the leaders of the most important countries involved in the conflict in Libya  affirming their commitment to respect the arms embargo to this country, and not to interfere in its internal affairs, Turkish President Recep Tayyip Erdogan received a "terrible defeat" over his plans in Libya.
In the end of Berlin conference, the international conference became Turkey against the international community, after the results led to completely opposite ends to what Ankara desires.
During the international conference about Libya, Turkey came under harsh criticism after it tried through the international gathering, to whiten its actions in the conflict that is tearing up Libyan lands. French President Emmanuel Macron demanded Ankara to stop sending "mercenaries" to Libya.
This is the step in which the Turks anticipated the international gathering, and mobilized thousands of mercenaries to Libyan lands, to engage in battles, and change the balance of power, as if the Turkish intention was decisive, because it thought that the conference outcomes would not be like what they expected.
Turkey seeks to turn Libya into a failed state, and thus facilitates incursion into all of it, especially as it is considered a valuable mine of natural resources and an important economic gateway to Africa.
As having a big part in the battlefield, Ankara guarantees that it will have a final say in any outcome, whatever the consequences.
Earlier, the Syrian Observatory "Al-Marsed"  for Human Rights revealed that the number of Syrian recruits, who arrived in the Libyan capital, Tripoli, rose to about 2,400, indicating that recruitment operations continue in the areas controlled by Turkey in northern Syria, bringing the number to about 6000 Syrian volunteers in Libya.
Meanwhile, US Secretary of State Mike Pompeo expressed concern about the presence of foreign forces in Libya, during a meeting with his Turkish counterpart, Mawlood Gawishoglu, it's one of the countries that has deployed forces a country located in North African country.