Libya, Counter-Terrorism Top Sisi- Merkel Summit in Berlin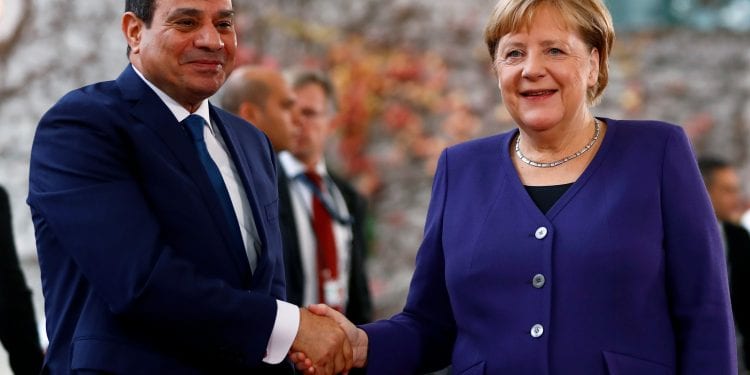 President Abdel Fattah El Sisi and Angela Merkel, Chancellor of the Federal Government of Germany tackled several issues of common interests at the Chancellery, Berlin, on Wednesday, according to Presidential Spokesperson Bassam Rady.
"The meeting witnessed extensive talks between the delegations of the two countries," said Rady.
According to the spokesman, Sisi expressed his appreciation to meeting with Merkel and he praised the close ties between Cairo and Berlin.
"The bilateral cooperation between the two countries has been growing recently, most notably political coordination and exchange of views on various issues of common interest," Rady added.
In this context, President Sisi affirmed Egypt's aspiration to maximize the bilateral cooperation in the coming period.
The president of Egypt also looked forward to further Germany's involvement through the mechanisms of its various development institutions in the priorities of Egyptian development plans in various fields, in addition to working to double the volume of German investments in Egypt and boost economic cooperation between the two sides, especially in light of the reforms launched by the Egyptian government to improve the environment.
Sisi and Merkel Discussed Libya Crisis
Accordingly, the spokesman added that the meeting also touched on ways of coordinating efforts with Egypt as a leading partner of the European Union in the fight against terrorism and illegal immigration, as well as the latest developments in a number of regional and international issues of common interest, especially the crisis in Libya, which has its security implications.
Moreover, Sisi and Merkel discussed regional developments including the Libya issue, counter terrorism and illegal migration crisis.
Both leaders agreed that efforts of Cairo and Berlin have to be united to resolve the situation in Libya in a comprehensive and integrated manner dealing with all tracks and aspects of the Libyan crisis.
Libya has been struggling to make a democratic transition amid insecurity and chaos ever since the fall of former leader Muammar Gaddafi's regime in 2011.