Saudi Arabia leadership invites President Al-Zubaidi to visit Riyadh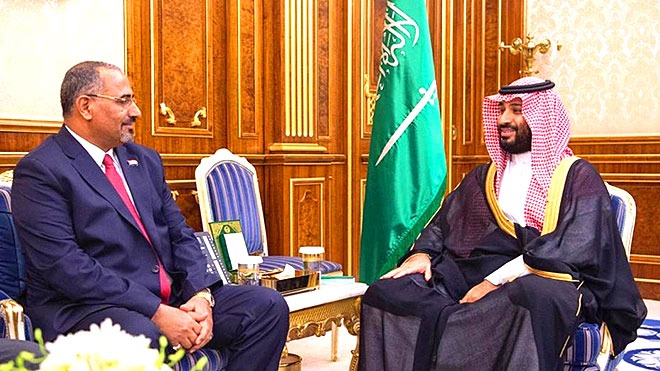 The Presidency of the Southern Transitional Council held an extraordinary meeting this morning, Saturday, headed by President Commander Aidarous Qassem Al-Zubaidi, head of the Council.
The meeting, which was attended by the council's ministers in the equal government, the Secretary-General of the General Secretariat of the Presidency, the governor of the capital, Aden, and a number of military and security leaders, was devoted to discussing the invitation of the leadership of the Kingdom of Saudi Arabia to the president of the council to visit Riyadh.
The Presidency of the Council expressed its appreciation for all efforts aimed at addressing the economic, service and living conditions, and consolidating the pillars of security and stability in the liberated southern governorates, reiterating its commitment to everything that would unite the home front to confront Iranian expansion and its militia arms in the region.
In its extraordinary meeting, the Presidency affirmed its firm position on the strategic partnership with the brothers in the Arab coalition, noting that the relationship of the Southern Transitional Council with the brothers in the countries of the Arab coalition will remain a solid strategic relationship governed by common denominators and a single destiny.
In the same context, the Presidency renewed its call to the coalition countries, the International Quartet, and the five permanent members, to support the government of parity to carry out its duties towards the deteriorating economic situation and to enable it to provide services and pay salaries as soon as possible.
The Presidency of the Council also reviewed the latest developments in the political, economic, and military conditions in the south and the region, renewing its demand for the equal government to carry out its duties regarding the deteriorating economic situation in the southern governorates to ensure stopping the collapse in the local currency exchange rate, and disbursing the salaries of the army, security and manpower in government sectors other.