Erdogan Sending Syrian Mercenaries to Kashmir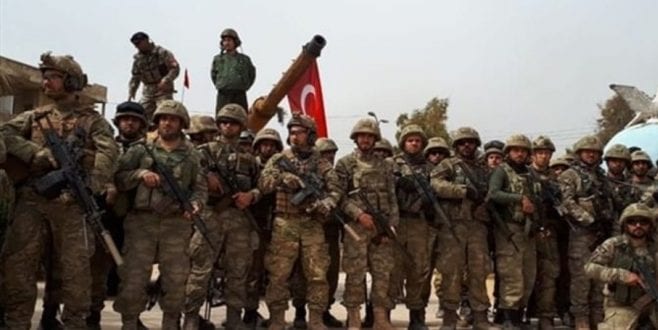 Is the rogue and expansionist Turkish regime led by President Recep Tayyip Erdogan now focusing on spreading terror in India's Kashmir? Yes, if one has to believe a report published in a Greek news website yesterday which has revealed that, after Nagorno-Karabakh in the South Caucasus, Turkey has started preparing its gangs in Syria to send them to Kashmir to fight for Pakistan against India. The report said that Ankara's attempt to extend its influence to Muslims in South Asia comes as part of Erdogan's ongoing steps to challenge Saudi Arabia's dominance of the Islamic world.
Andreas Mountzouroulias, a journalist, author, defence analyst and geopolitics analyst, in his report titled 'Erdogan sends mercenaries to Kashmir' which has been published in Pentapostagama says that according to information received from local sources by Kurdish news agency ANF, Abu Emsa — who heads the Suleyman Shah Brigade, a notorious terrorist organization part of the Syrian National Army — told his gang members in the northern Syrian city of Afrin that Ankara wants to strengthen and reinforce Kashmir.
The report said that Turkey is emerging as the leader of the entire Muslim world, even threatening India in the Kashmir issue, having completely lost its sense of logic. Pakistan was the second country in the plan, as Ankara and Islamabad prepare for a permanent presence of surface units and aircraft of the Pakistani Defense Ministry in the Turkish operation 'Shield of the Mediterranean', with which Erdogan hopes to plunder Greek lands and plots of land from Greece.
"Abu Emsa said Turkish officers would also ask the commanders of other SMO gangs to state the names of those who would like to go to Kashmir. He said those leaving his gang would join the list and receive $2000 in funding. He told members of his gang he met in Schiege that Kashmir is as mountainous as Karabakh. Local sources told the Turkish state it has been carrying out this activity in Ezaz, Gerablus, Bap, Afrin and Idlib for a short time, thus choosing the names of the gangs that will be secretly transferred," Mountzouroulias mentioned.
The report could further increase Turkey's woes and international isolation. Erdogan's meeting with Islamist militant groups like Palestine's Hamas, his misadventures and provocative moves in the Eastern Mediterranean, his highly-criticized role in Syria, Libya and the entire Nagorno-Karabakh conflict between Armenia and Azerbaijan, the day-in and day-out belting out of anti-Greece and anti-French rhetoric and the ultimate desire to become the 'Sultan' of a fictitious neo-Ottoman empire has already pushed the region to brink of war.
Nikol Pashinyan, the Prime Minister of Armenia, has been urging the international community to take action against Turkey's imperialistic policies, saying that terrorists from Syria have been hired and transported to fight in the disputed Nagorno-Karabakh region with the Turkish army being involved in the process.
"Reports have emerged of Turkey preparing to send jihadists fighters to Kashmir, India according to a Greek reporter. This will be the end of Erdogan," tweeted Emmanouil Fragkos, a Greek politician currently serving as a Member of the European Parliament.
Erdogan's closeness to the Imran Khan government in Pakistan is no secret. Khan has now for long been trying to prove that people of Pakistan have a Turkish lineage and that "enemies of Turkey are enemies of Pakistan and friends of Turkey are the friends of Pakistan." With the country facing an acute shortage of fighter pilots, Pakistani officers have also been flying the Lockheed Martin F-16 fighter jets of the Turkish Air Force. Erdogan has also returned the favour by repeatedly raising the issue of Kashmir, an exercise which India has rightly termed as "completely unacceptable" and instead asked Turkey to learn to "respect the sovereignty of other nations and reflect on its own policies more deeply."
Earlier this week, the Greek media reported US Secretary of State Mike Pompeo slamming Turkey "for opposing the principles and operation of NATO and undermining its cohesion" during a virtual meeting of NATO Foreign Ministers on Tuesday.
Turkey's growing aggression was also hotly debated during the first-ever online annual session of the NATO Parliamentary Assembly (NATO PA) last month.
"The allies cannot cooperate with jihadist groups. They cannot test S-400. These practices undermine NATO's values and undermine NATO's solidarity, cohesion, unity and effectiveness as a political and military organization, while undermining the Alliance's own goals and defense interests," said Greek Prime Minister Kyriakos Mitsotakis during the six-day session.
With Turkey showing no intentions to de-escalate its stand-off with Greece in the Eastern Mediterranean, the European Union summit in Brussels on December 10-11 will weigh in on possible sanctions.
The signs are already looking ominous for Ankara.
"I think that the cat and mouse game needs to end. We will have a debate at the European summit on 10 December and we are ready to use the means at our disposal," European Council chief Charles Michel said Friday.
That's not all, the news of Washington moving ahead to sanction the Erdogan regime for buying Russian-made air defence system resulted in Turkey's lira slipping further Friday thus bringing in more trouble for the authoritarian government.