Israeli jets launched airstrikes against Syria and Gaza targets and killed two
Israel launches fresh strikes after a martyr on the Gaza border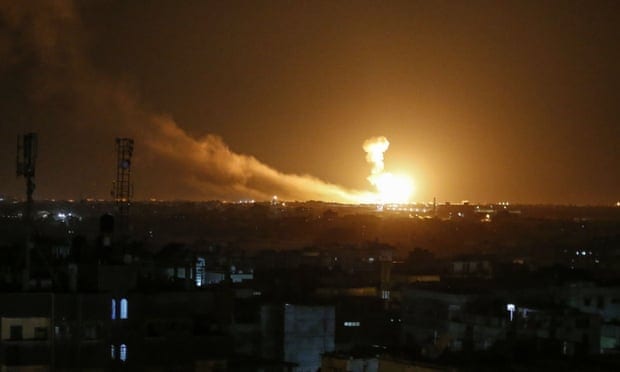 Israeli jets have launched airstrikes against Islamic Jihad targets in the Gaza Strip and Syria, killing two militants, in retaliation for several barrages of rocket attacks fired by the group into Israel.
The intense violence erupted after an Islamic Jihad militant was shot dead and tensions exploded after a graphic video was later shared on social media showing what appeared to be an Israeli army bulldozer scooping up the body, and apparently firing on Palestinians nearby who rushed to try to retrieve the body.
It was widely decried online. It also appeared in line with a controversial new policy announced last year by Israel's far-right defence minister, Naftali Bennett. He said he intended to hoard the bodies of militants from Gaza to use as bargaining chips with Palestinian militants in body-swap deals.
During Sunday night, around 30 rockets and mortar shells were fired into southern Israel from the Gaza Strip. Many of them were intercepted by the country's state-of-the-art Iron Dome anti-rocket system while others fell in open areas. Some shrapnel damaged builds, but there were no reported injuries.
Further hostilities are expected, and the army said it was closing roads, schools, and a train line near the Gaza Strip.
Israel said it bombed sites across Gaza, a thin, impoverished slice of land that the country, in coordination with Egypt, has blockaded for more than a decade.
According to a military statement, targets included underground bunkers and compounds.
"The [Israel Defense Forces] will respond to any terror acts of the Islamic Jihad that endanger Israeli civilians and harm its sovereignty," it said.
Medics in Gaza said four people were wounded in the strikes, without identifying them.
Israel and militants in Gaza have frequently clashed during the past two years, with Israeli jets and helicopters bombing the strip while Palestinian fighters launch projectiles at nearby Israeli towns and cities. Typically, the flare-ups die down after a day or two, with no apparent gains for either side.
Unusually, and opposed to its regular attacks on Gaza, the Israel military also made the rare admission of bombing Syrian territory. It announced on Monday that it had bombed an Islamic Jihad site near Damascus used for manufacturing rocket fuel. Islamic Jihad confirmed early on Monday that two of its fighters were killed.
While Israel has carried out hundreds of strikes in Syria, it normally does not acknowledge them, fearing reprisals.
But the country has recently taken a more overtly aggressive approach against its arch-enemy, Iran, which has established a foothold in neighbouring Syria amid the ruins of the civil war.
Islamic Jihad is considered an Iranian proxy force and is based in Damascus. The group is also the second-largest Palestinian militant faction in Gaza after the strip's rulers, Hamas.
In November, Islamic Jihad and Israel fought a three-day conflict that left 35 Palestinians martyr, including a family of eight. The violence began after Israel launched two targeted assassination attempts against senior Islamic Jihad figures.
Israel has long held Hamas responsible for all rockets fired out of Gaza, but informal agreements between the two sides have seen a reduction in violence and the slight easing of the blockade, including allowing more Palestinians into Israel for work.