EU calls Palestinian Authority to abide the standards of international human rights conventions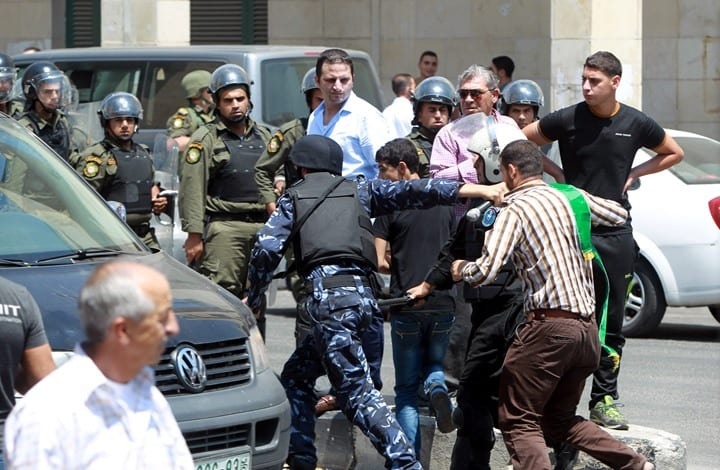 On 20 November, Palestinian security forces arrested Banat after the publication of a video in which he criticised the Palestinian Authority. Following a court decision on 23 November ordering his release, Nizar Banat was set free on 24 November after spending four days in the detention facilities in Jericho, where the treatment of detainees is a cause of concern. The Palestinian Authority remains responsible for upholding human rights in the areas where it is able to exercise control.
European Union Representative issued a statement in agreement with the EU Heads of Mission in Jerusalem and Ramallah regarding the arrest of activist Nizar Banat.
The European Union statement said it firmly opposes actions aimed at limiting the space in which civil society and media can operate, and expects the Palestinian Authorities to meet the standards of the International Human Rights conventions to which they have acceded in order to ensure that human rights, including the freedom of expression of Palestinian citizens, are preserved.
"In line with the International Covenant on Civil and Political Rights (ICCPR), the European Union stands firm in its support of freedom of expression, including via social media, freedom of association and freedom of assembly," statement said.
"The meeting of the European Union-Palestine Subcommittee on Human Rights, Good Governance and Rule of Law today provided a good platform for an open and constructive dialogue with the Palestinian Authorities on these issues," it added.
"The EU remains fully committed in its support towards a democratic Palestinian State based on the rule of law and respect of human rights," it concluded.
Palestinian Authority security services had recently stormed Palestinian refugee camps in Nablus and Ramallah in the occupied West Bank, after they surrounded it at night and arrest political opponents of Palestinian Authority President Mahmoud Abbas who organized a conference against political arrests.
They used military vehicles in a bloody night and clashes with the camp residents and the security forces in protest against the political arrests carried out by the security services against Palestinian citizens in the occupied West Bank.
The security services carried out raids on a number of institutions in the camp, including: the Youth Club of Al-Amari, the Association for the Handicapped, and the Palestinian Child Association, which destroyed its contents, and also arrested Ahmed Al-Annabi, Ali Idris, son of the martyr Khalil Idris, two brothers of a member of the Legislative Council and a leader in the Fatah Jihad Movement Tamleh.
The security services stormed the deputy in the Legislative Council for the Fatah Jihad Tamliya house, tampered with its contents, confiscated electronic devices, and delivered his family a warrant for his arrest.