Palestinian Authority Arrests Dozens Opponents of President Mahmoud Abbas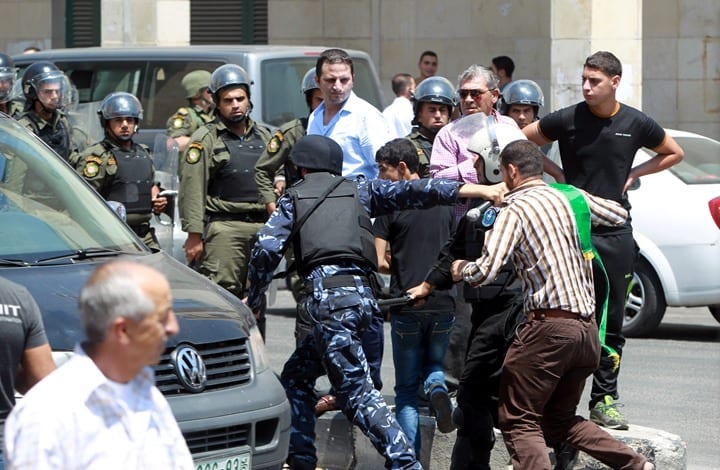 Palestinian Authority security forces attacked On Wednesday refugee camp in Ramallah-West Bank, after they surrounded it at night to arrest political opponents of Palestinian Authority President Mahmoud Abbas who organized a conference against political arrests, They used military vehicles.
After a bloody night and clashes between security forces and camp residents in protest against the political arrests carried out by the security services against Palestinian citizens in the occupied West Bank.
The security services carried out raids for a number of institutions in the camp, including: Al-Amari Youth Club, the Association of physically Handicapped people, and the Palestinian Child Association, they destroyed its contents, and also arrested Ahmed Al-Annabi, Ali Idris, son of the martyr Khalil Idris, two brothers of a member of the Legislative Council and a leader in Fateh movmenvt "Jihad Tamleh".
Security services attacked the house of Jihad Tamleh, confiscated electronic devices, and his family delivered a warrant for his arrest.
Jihad Tamaleh published on his personal account on Facebook, in which he said: "You will not kill the voice of truth in us."
Tamaleh added, "The security forces continue their political arrests, and attacked Al-Amari camp on Wednesday at 3:00 AM morning, with hundreds of soldiers and through tear gas, arresting my brothers Harbi Tamleh, Ahmed Tamleh, Ali Idris, Ahmed Al-Annabi and Munther Abbas for their attendance at the meeting rejecting the political arrests that was held recently in Al-Amari camp.
For months ago, the Palestinian Authority in the West Bank has been carrying out political arrests of those opposed to the policies of President Mahmoud Abbas, activists and journalists.
Many human rights organizations tried to stop the violations of  in the human rights situation in the areas under the control of the Palestinian Authority.