Top Russian senator Matviyenko: Ukraine, US, NATO abused grain corridor for terrorist purposes
Valentina Matviyenko also pointed out that the Russian side will not allow the waters of the Black Sea to be used to deliver weapons to Ukraine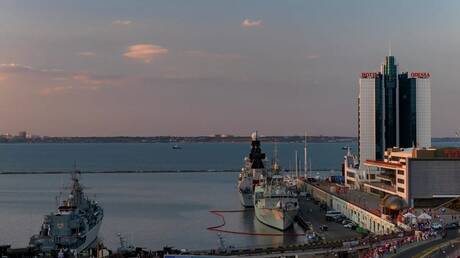 Ukraine, the US and NATO abused grain corridors opened under the Black Sea Grain Initiative for sabotage and terrorist purposes, and had no genuine interest in providing humanitarian aid to needy countries, Valentina Matviyenko, speaker of Russia's Federation Council (upper house of parliament, or senate), said.
"Neither Ukraine, nor Washington, nor NATO were interested in providing food aid to countries in need; they had other goals. Their goals were subversive, militaristic, [as they sought] to use the grain corridor for [carrying out] sabotage, for terrorist acts," she said at a press conference.
Matviyenko also pointed out that the Russian side will not allow the waters of the Black Sea to be used to deliver weapons to Ukraine, "to use it <…> for sabotage and terrorist purposes." "When this window of opportunity for Ukraine closed, they urgently demanded that the [freshly minted] NATO-Ukraine Council be convened. Here their intentions have now become clear. What we talked about, they simply confirmed today," she said.
The senate speaker commented on the planned meeting of the Ukraine-NATO Council, saying that Kiev has appealed not to the UN, but to NATO. "Of course, NATO is interested in using the Black Sea, it is clear for what. Nothing will come out of it for them, and, of course, NATO will not be involved in providing food supplies to African countries," she added.
About the Black Sea grain deal
On Sunday, NATO Spokeswoman Oana Lungescu said that a meeting of the NATO-Ukraine Council at the ambassadorial level will be held on July 26 in Brussels, and its agenda will cover the demise of the grain deal and the potential for continuing grain exports from Ukraine via the Black Sea.
The Ukraine-NATO Council was established at the NATO summit in Vilnius on July 12. The body's outstanding feature is that is provides Ukraine with the option of convening it independently if necessary.
The grain deal expired on July 17. In exiting from the deal, Moscow, which had agreed to extensions of the July 2022 Istanbul agreements creating the Black Sea corridor for ships carrying Ukrainian grain several times, cited the failure of its deal partners to fulfil the Russia-related provisions of the deal, which called for removing obstacles to Russian agricultural exports.
Moscow also noted that, although the Istanbul agreements were intended to ensure food security for the neediest countries, the bulk of Ukraine's grain actually went to wealthy Western countries. Russian President Vladimir Putin said that Moscow could consider resuming the grain deal if all of the Russia-related provisions are in fact implemented.