Ex-French prisoner Jean-Pierre Marongiu documens Qatari jail horror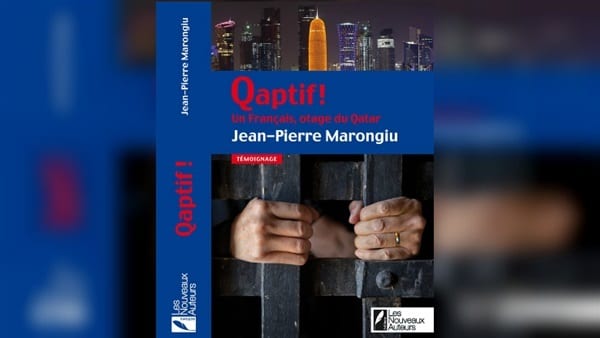 In January 2018, the French radio, France Bleu, ran a plea by French national Jean-Pierre Marongiu who was sentenced to seven years in jail in Qatar for signing a rubber check.
"They are placing me side by side with killers and drug addicts," the man said in his plea. "There is no place for me to sleep."
In his plea, Marongiu called on the French government to intervene to secure his release. He said he was subjected to maltreatment by Qatari prison authorities after he was unjustly sentenced to prison.
He threw a bombshell by revealing that some members of the Islamic State (IS) group were imprisoned in the same cell with him.
A contractor by profession, Marongiu, who faced torture and violent treatment in the Qatari prison, was accused of signing checks without a balance.
He issued a book revealing the existence of a cell belonging to IS, which operates without harassment inside the central prison in Doha.
Marongiu also pointed out that the prison treatment deteriorated to the worst, especially as the number of prisoners, most of them without trial, even opposition figures to the ruling family.
These opposition figures, he said, were put in jail on charges of signing rubber checks, after their funds were frozen.
Meanwhile, the French newspaper, Le Bois, published excerpts from Marongiu's book, which is titled "In Detention: A Journey to the Bottom of the Qatari Hell."
Qatari crisis
According to Marongiu, Doha had imprisoned 25 Qatari citizens who were on their way to travel and fight within the ranks of IS in Syria. He revealed that some of the imprisoned Qatari nationals were ministers in the Qatari government.
The sons of the detained ministers, Marongiu said, exercised their authority in the prison.
"The prison guards dealt with them with a kind of deliberate slackness," Marongiu said in the book. "They would go out and get back from prison whenever they wanted, and they would give orders to the workers."
The former prisoner described another aspect of the tragedy he faced behind bars. He pointed out that Qatari prison authorities had imposed a tax on non-Muslim prisoners and confiscated their mobile phones.
IS living well
According to Le Bois, Marongiu said that a Jordanian prisoner was beaten to death in front of everybody then left to rot for days before being transferred from the cell.
Marongiu added that he came across another French national in the prison, who was called Gerard.
He said this man was tasked with the mission of following up on news about IS and analyzing what the press wrote about the terrorist organization.
He noted that imprisoned IS members left the prison after 24 days there.
Marongiu revealed that he had been threatened with death by the cell leader who was called Abu Nayef.
He noted that this cell leader asked him not to mention the good conditions of IS members in the prison.
He quoted Abu Nayef as telling him: "Do not forget that the army of Muhammad is spread everywhere in France, even in Metz," the city where the Marongiu family lives.