Extreme founder Alistair Gosling looking to connect adventure sports community across borders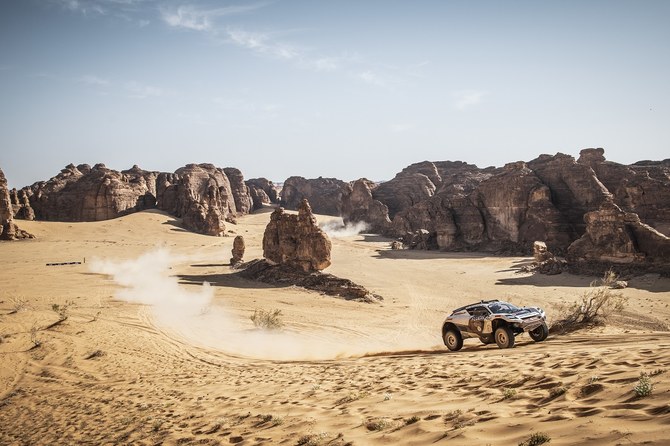 Whether hiking the mountain trails of Ras Al-Khaimah, rally driving in AlUla, sailing in the Arabian Gulf, or taking part in any adventure sport around the globe, the world could be about to get smaller for adventure sports athletes.
Alistair Gosling, founder of Extreme Sports Channel and CEO of Extreme International, has come up with a new way of connecting the rising number of people joining the adventure sports community.
"In the old days, when you flew in somewhere, you would go to a little booth at the airport to get a local SIM, put the SIM in and get a different number," he said. "It was a nightmare."
For Gosling, those days should be consigned to history. Now, through Extreme Connect, you can download a "virtual" SIM, and users can "toggle" between the new e-SIM and their own local carrier account as they please, on the same smartphone.
"You download the app from anywhere in the world, you decide what local number you want, whether it's the UK or Australia or anywhere else, and whatever your local number is makes no difference — it operates the same in every country," he said. "So, if you're in Saudi Arabia and you want this, you download the app and away you go. It's available globally and totally relevant to the Middle East."
Rates and costing will vary for each country in the region, with different data plans on offer. They will be especially attractive for those who take part in extreme sports, Gosling says.
By their very nature, adventure activities tend to take place in remote locations, often with reduced, or weak, connectivity. This is a service that, almost literally, fills a gap in the market.
"Vision-wise, we've always been looking for a telecom solution for our community," said Gosling. "We estimate between 750 million and 850 million who are active regularly in adventure sports globally. For example, there's a service in the UK called 'giffgaff,' which is really geared toward people into tech. For our community, we really felt there was a good opportunity to put together a great service focused on people who love mountain biking, skiing, snowboarding, motorsports — whatever adventure they may be doing — and travel. These two always go hand in hand because if you're going to go do these activities, a lot of the time you're traveling."
Gosling started Extreme Sports Channel 21 years ago, and this idea has been long in the making too.
"We've been looking at it for about 12 years, so a long, long time," he said. "We finally found a couple of technology partners with whom we were able to piece it together and make it happen."
Now, the coming together of technology, the cloud-based system and the carriers in each country have ensured that this vision has been realized.
One of the major benefits would be the ability to move across different regions with different networks without losing connectivity or having to constantly change phone settings.
"Wherever you are in the world, whatever you're doing, with our network, we are sometimes able to move between different carriers," he said. "So, you're not locked into one carrier. And that can then increase connectivity. One might be running 4G and the other running 3G, and you can connect to the one with better coverage."
Around 114 counties worldwide are already part of this technology, and Gosling can only see engagement heading in one direction.
"We have a change in the marketplace going on; this is a fundamental shift," he said. "Within three to five years, the process of having to muck around with a little SIM card will be gone. We're tapping into two things at the same time — the change in the technology and the virtual SIM — and then targeting this adventurer-traveler demographic. Wherever you are in the world, as long as you have an internet connection, you can download the SIM, and as long as there is a mobile network in one of those 114 countries, then the service will work."
While the service is already in use, the team at Extreme have been rolling it out without too much fanfare.
"We've kept it pretty quiet. We haven't thrown any consumer marketing at it," said Gosling. "We wanted to get it launched, and we're running it through beta testing and making sure all the user experiences are working. There are little glitches here and there, and before we throw our real shoulder behind it, I want to improve all those bits.
"The uptake's been great. We've done a business-to-business marketing press release and nothing else at the moment, but this conversation is starting to shift toward the consumer."
On top of convenience and pricing, Gosling is looking to add benefits for new members.
"We have a collection of specific, special offers that we're working on that will come with the package," he said. "There's discounted tickets to adventure events with social get-togethers. The next thing we're all working on is tips and tricks from some of the high-profile athletes, so you can ask them questions, which is interesting. And the next one is discounts from retailers and brands, like Patagonia, North Face, Quicksilver, Billabong, Rip Curl and some of the technical equipment companies. So, if you're a member, you get this collection of very targeted benefits."
Above all, the new technology aligns perfectly with Extreme's ethos of climate-friendly initiatives, among which has been involvement in Extreme E, the electric SUV rally series.
"Sustainability runs deep through the organization, and that's been driven by me, our head of sustainability Amber Nuttall, and the wider team," said Gosling. "The fact that we're not giving out little pieces of plastic is hugely advantageous."