Four Individuals Martyred in An Israeli Strike in South Lebanon
The Israeli occupation military also struck a home in the Lebanese town of Kfar Kila, which resulted in the martyrdom of an 80-year-old female civilian and the wounding of her granddaughter.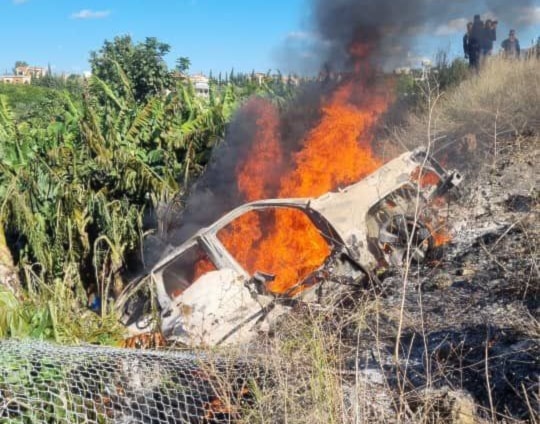 Several individuals were martyred on Tuesday in an Israeli aggression that targeted their vehicle in southern Lebanon, the National News Agency reported.
According to the agency, the Israeli military targeted a civilian car on a side road between Chaaitiyeh and Qlaileh in the district of Tyre, which resulted in the martyrdom of four people.
The Israeli attack in Chaaitiyeh is not the only one reported today.
An elderly civilian was killed and her granddaughter was wounded earlier in the day in an Israeli airstrike that targeted their home in the town of Kfar Kila in South Lebanon.
The victims have been identified as 80-year-old Laeqa Sarhan and her granddaughter Alaa al-Qassim, a Syrian national.
According to sources, Alaa is currently receiving treatment at the Marjeyoun Government Hospital. It was also confirmed that several others of the martyr's grandchildren miraculously survived the bombing that hit their home.
A source at the Marjeyoun Hospital spoke to the AFP, stating that Alaa's injuries are severe. Efforts are underway to save her life, utilizing all available resources at the hospital. 
Martyrs of journalism in support of Palestine
Farah Omar, and cameraman, Rabih Me'mari, were deliberately killed earlier today in an Israeli airstrike on their location in Tayr Harfa, South Lebanon, marking a new episode in the long series of crimes committed by the occupation entity.
Farah and Rabih had just ended a live broadcast at 10 am, giving updates on the latest Israeli bombardment in South Lebanon. She and her colleague, alongside a civilian who was accompanying them, Hussein Akil, were targeted soon after they wrapped up their coverage and went off air.
An Israeli drone fired two rockets at their location, which resulted in their immediate martyrdom.