Israeli Massacres in Gaza on Uptick as Homes, Hospitals Attacked
Israeli occupation forces continue to target homes and hospitals in Gaza despite international calls for cessation of hostilities.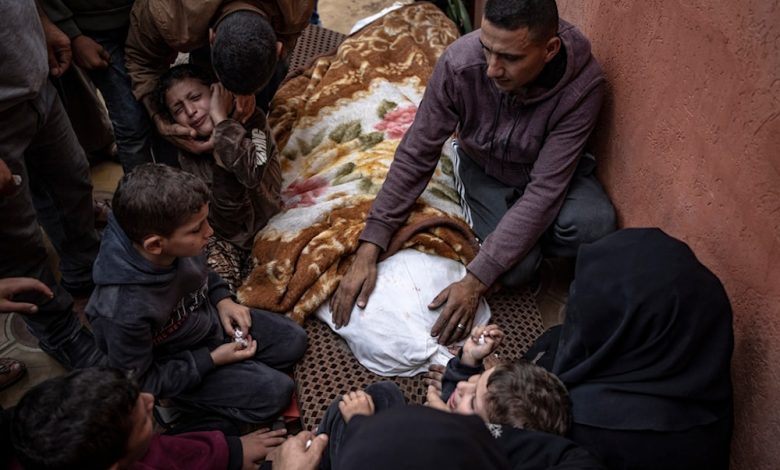 Israeli occupation forces bombed Saturday several residential houses and buildings in Khan Yunis, Nuseirat Refugee Camp, and al-Jalaa Roundabout in the northern Gaza Strip.
The occupation also committed a massacre against a family that had been displaced from the Gaza Valley area, which martyred several people and wounded many others, including children, women, and the elderly.
Additionally, the occupation launched intense airstrikes on Tal al-Zaatar and Jabalia in the northern Gaza Strip, as well as the vicinity of the Saraya junction in the center of Gaza City, Nasr neighborhood, and the surroundings of Sheikh Zayed Towers in its north.
In light of the heavy Israeli shelling, the Ministry of Health announced that 198 members of the health staff were martyred, 53 ambulances were destroyed, 135 health facilities were bombed, and 21 hospitals and 47 primary care centers were shuttered since the beginning of the aggression on Gaza.
Other targets included Capital Mall and the residential buildings surrounding it on Omar al-Mukhtar Street in Gaza City. Moreover, the Israeli occupation ruthlessly bombarded al-Maghazi city and the central area of Gaza city with artillery strikes.
"Israel" bombed Al-Shifa Medical Complex, in Gaza, with internationally prohibited White Phosphorus, the Palestinian Minister of Health, Mai al-Kaila confirmed the reports on Saturday.
The Minister also revealed that 39 children and infants who were administered to the intensive care unit are close to dying as oxygen supplies are running out in Al-Shifa Hospital. Al-Kaila stressed that "patients in al-Shifa Complex are threatened with imminent death."
Al-Quds Hospital located in the northern part of Gaza City is almost completely out of service, as its intensive care unit is the only functional section in the hospital and it was also "threatened to stop [operating] within the [next few] hours," the Palestinian Health Minister explained.
She revealed that "20 out of 30 hospitals in [in the Gaza Strip] have completely stopped." 
The official highlighted the illegal bombing of hospitals in the Gaza Strip in "plain sight", saying that the circumstances that Gaza's health sector is facing have "never occurred in history."