Libya's Strongman Haftar visits Russia to discuss cooperation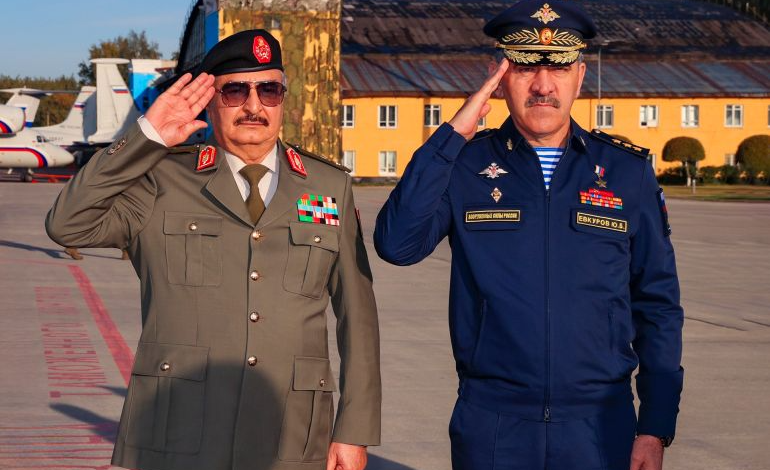 On Tuesday, the Commander-in-Chief of the Libyan National Army (LNA), Field Marshal Khalifa Haftar arrived in Russia, with Deputy Defence Minister, Yunus-bek Yevkurov leading the welcoming committee.
The primary focus of this trip will be to engage in discussions with Russian officials regarding the ongoing developments in Libya.
Additionally, the discussions will aim to enhance bilateral relations, and explore avenues to strengthen their mutual support and cooperation. They will also address issues of mutual interest, emphasising the countries' shared goals and aspirations.
Speaking at the 78th session of the United Nations General Assembly, the Russian top diplomat pinpointed the roots of Libya's political deadlock to the 2011 military campaign, that led to the downfall of Muammar Gaddafi.
Russian Foreign Minister, Sergey Lavrov expressed hope for Libya's potential to prepare for vital general elections, under the aegis of the United Nations. Lavrov's comments underscored the significant challenges faced by a nation reeling from years of conflict.
"A decade on, Libyans remain haunted by the aftermath of NATO's actions, which not only destabilised their homeland but also ushered in a surge of terrorism across the Sahara and Sahel," Lavrov asserted.
Lavrov further delved into the situation in Sudan, describing it as "another casualty of the West's ill-conceived attempts to impose its brand of democracy, and liberal values."
Highlighting regional cooperation, the FM praised the Arab League's "proactive stance and lauded Syria's reintegration into the league." In another nod to regional peace efforts, Lavrov expressed optimism about the ongoing rapprochement between Damascus and Ankara. "Such positive moves strengthen the Astana initiative, pushing for a Syrian solution rooted in the restoration of its full sovereignty," he concluded.
On the 10 September, a devastating storm swept through several eastern regions of Libya, notably the cities of Derna, Benghazi, Al-Bayda, Al-Marj, and Sousse. This resulted in significant destruction and led to the loss of thousands of lives, injuries, and missing individuals.
Various foreign powers have also intervened, backing different sides in the conflict. The situation is further complicated by the presence of numerous militias and extremist groups. This mosaic of internal and external forces has made it extremely difficult to navigate a path toward peace and stability.
Libya is currently divided between two main rival administrations: the Tripoli-based Government of National Unity (GNU) in the west, and the Parliament-designated government in the east.