Vladimir Putin Promises Victory In Ukraine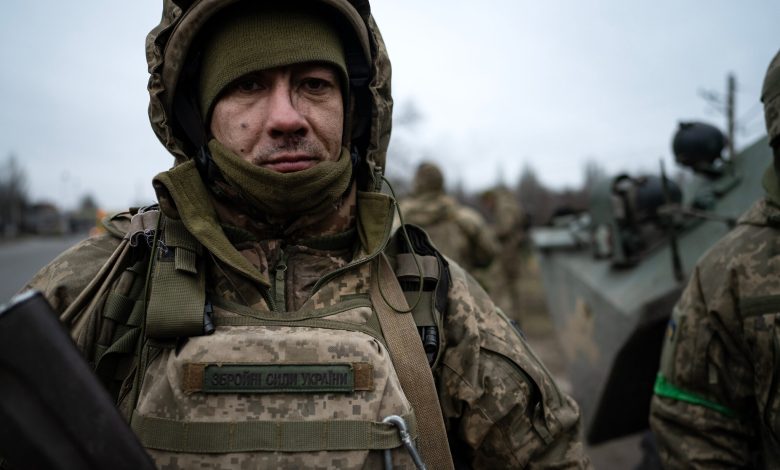 As his military pressed its eastern campaign with missile strikes on a key Ukrainian military hub, President Vladimir V. Putin used a speech in the city formerly known as Stalingrad on Thursday to invoke the Soviets' defeat of the Nazis in a decisive World War II battle and vow that Russia would be victorious.
"We are again and again being forced to resist the aggression of the collective West," Mr. Putin said. "The legacy of generations, values and traditions — this is all what makes Russia different, what makes us strong and confident in ourselves, in our righteousness and in our victory."
The Russian leader's defiant remarks came as Ukrainian officials warned that Moscow was opening a new offensive aimed at capturing more of eastern Ukraine, which could give Mr. Putin his first significant battlefield success in months. Hours before he spoke, missiles hit the city of Kramatorsk, a major military hub for Kyiv's forces in the east, as Russia continued to direct attacks at towns and cities all along the front lines.
Kramatorsk, a sprawling industrial hub that was home to about 200,000 people before the war, has been the target of frequent rocket attacks by Russian forces since the invasion began nearly a year ago. But the strikes on the city center have intensified in recent weeks as Russian forces ramp up for an expected offensive aimed at taking the whole of the Donbas region.
Mr. Putin made no mention of Russia's mounting losses in his speech. Instead, speaking at a "celebratory concert" marking the 80th anniversary of the Soviet triumph in Stalingrad, now known as Volgograd, Mr. Putin lashed out again at Western nations, which are sending increasingly advanced weapons to Ukraine. He made his most direct remarks yet in response to Germany's recent decision to provide Ukraine with Leopard 2 battle tanks, calling it part of "the aggression of the collective West."
Russia has been making slow gains in the east that now pose an imminent threat to Ukrainian control of Bakhmut, a city about 20 miles east of Kramatorsk. The loss of Bakhmut would add momentum to Moscow's grinding bid for control of the region, but a Russian victory there would come at a huge cost in lives, Ukraine says. The Kremlin has thrown thousands of often inexperienced fighters into brutal ground combat against dug-in Ukrainian forces.
Mr. Putin said it was "unbelievable" that Russia was "again being threatened" by German tanks and made a vague threat directed at Germany, which Mr. Putin long viewed as Russia's most important link to the West.
"We aren't sending our tanks to their borders," Mr. Putin said. "But we have the means to respond, and it won't end with the use of armor. Everyone must understand this."
Stalingrad — the turning point in what Russians call the Great Patriotic War, the Soviet Union's fight against the Nazis in World War II — holds totemic significance for Russians as a symbol of wartime suffering, sacrifice and heroism. In 1943, the Soviets reversed the tide of Germany's invasion there after a 200-day battle that cost hundreds of thousands of soldiers and civilians their lives.
After Mr. Putin landed Thursday in Volgograd — about 600 miles southeast of Moscow and about 200 miles east of Ukraine — Russian state media footage showed him laying red flowers at a Soviet commander's grave below the nearly 300-foot Motherland Calls monument, one of the world's biggest statues. He was also shown kneeling before a wreath at a memorial flame nearby.
For Mr. Putin, the symbolism is a central trope in his messaging to Russians to push them to support his war in Ukraine, with the Kremlin's propaganda falsely describing the Ukrainians as modern-day Nazis and twisting reality to describe the Russian invasion as a defensive war.
In his speech, Mr. Putin said that the Soviets triumphed over the Nazis because of their "solid, absolute belief that truth is on our side" — the same language that Mr. Putin has used since the first day of his invasion in pledging a Russian victory in Ukraine.
Mr. Putin's last delivered a speech at a major public event in September on Red Square in Moscow, celebrating Russia's illegal annexation of four Ukrainian regions.
Now the promise of Western tanks and other powerful weapons has ramped up the pressure on Mr. Putin, whose speech on Thursday was an effort to color the invasion with both history and righteousness.
Ukraine soon dealt Moscow a major setback forcing a Russian retreat in November from the city of Kherson, which prompted increased criticism within Russia of the military's conduct of the war.