German coup attempt brings political violence back to the fore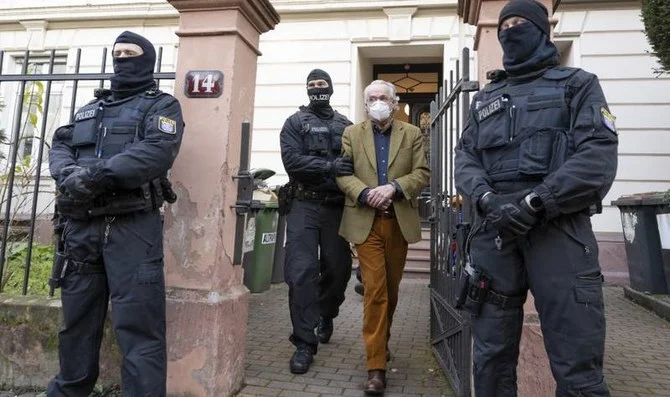 It came as a great shock last week when, as a result of the largest counterterrorism operation in German history, it came to light that a coup was being planned and that its ringleaders had been arrested. A hitherto little-known group had drawn up detailed plans to install a new government with an obscure prince at its head.
The thrilling narrative, of which Ian Fleming would have been proud, offered a window into Germany's far-right movement and was a cause for concern for many democratic governments regarding homegrown threats.
The cast for Germany's 21st-century coup was a gift to scriptwriters: A blue-eyed, 71-year-old German aristocrat sat in a neo-Gothic hunting lodge, an opera tenor with aspirations of being minister of culture, a paratrooper-turned-militia leader, and a Russian femme fatale liaising with Moscow. Sharing their dastardly plans over encrypted messaging service Telegram, the plotters hoped to install the septuagenarian golf course chairman as their kaiser.
The objectives of the motley crew were, however, less comical. The estimated 50 men and women are understood to be part of the Reichsburger, or "Citizens of the Reich," a far-right group that unites extremists and conspiracy theorists. Not recognizing the modern Federal Republic of Germany, seeing it rather as a vassal state controlled by international interests, the heavily armed group planned to violently install a new government.
The news of the planned coup has unsettled many, given its intention to solicit Russian support. Even though there is nothing to suggest that the group's efforts to contact the Russian authorities were successful, the plans are of great concern given the current political climate in Europe.
The group's ringleader, Heinrich XIII, Prince of Reuss, has long courted far-right politics and been dismissed as a conspiracy theorist. However, to his followers and the members of the Reichsburger specifically, he is a revered leadership figure. Descended from a dynasty that established itself in the 12th century and which traces its roots back to A.D. 900, Heinrich certainly has pedigree.
Having ruled vast swaths of what is now Germany, Heinrich's great-grandfather abdicated at gunpoint, as the German princely states were absorbed into the young republic following the country's defeat in the First World War.
Heinrich's complaint with modern Germany relates to his family's loss of property, status and influence in a country that, after the experiences of imperialism, fascism and communism, was only delicately reunified in 1990. Though Germany does not officially recognize royalty, the descendants of princely houses do still use their titles and have some access to their properties.
However, their political involvement is limited and it is Heinrich's involvement in this coup attempt that has raised eyebrows.
He is, of course, not the first of his kind to lead a monarchist putsch. In 1920, the legitimate German government was forced to flee Berlin as aristocrats supported right-wing nationalists and militarist circles that sought to overthrow Germany's young republic.
In 1944, German Count Claus von Stauffenberg, alongside other aristocrats, came within hours of overthrowing Adolf Hitler and the Nazi regime. So, although Germany's aristocrats are generally apolitical, there is precedent for them having central roles in political putsches.
The involvement of Heinrich has also drawn attention to the dark reality of the extremist fringes of German politics. Though Germany is today Europe's largest democracy, groups like the Reichsburger have grown in prominence. As with elsewhere in Europe, nationalist parties have been on the rise in Germany, especially in its deindustrialized east. Unified in their deep rejection of state institutions and of democracy itself, these groups have increasingly voiced that they wish to "correct" Germany by violent means.
In February 2020, a mass shooting left nine people dead at two shisha bars in the city of Hanau, near Frankfurt, in an act of racist violence. It was not surprising, therefore, that almost half of last week's arrests took place in the southern states of Baden-Wurttemberg and Bavaria, the historical heartlands of Nazism. More than one in five Reichsburger members are understood to be based in the southwestern state of Baden-Wurttemberg alone.
Though the presence of these groups is not alarming in itself, it is rather that, throughout the 20th century, Germany had a history of political violence both on the left and the right, making the tragic comedy of the coup attempt more sinister, as it represents a wider political malaise in German society.
The news of the planned coup has unsettled many, given its intention to solicit Russian support.

Zaid M. Belbagi
Last week's arrests, though surprising, are not without precedent. The great trauma from which the German state was created invariably meant that the modern republic would always have its detractors. Such opposition is not uncommon when systems of government change. In a historic parallel, it was Heinrich's ancestor, Henry XXII of Reuss, who, alone among all the confederate princes, remained opposed to the unification of Germany in 1871.
This opposition is not of concern on its own, but rather worrying is the fact that the plotters had renewed calls for political violence in a Germany that seemed to have put the tumult of its past to bed. How the republic manages to do this going forward, as Germany grapples with the effects of deglobalization, will be a significant test of its strength as a democratic system.