Global protests held in solidarity with Palestinians around the world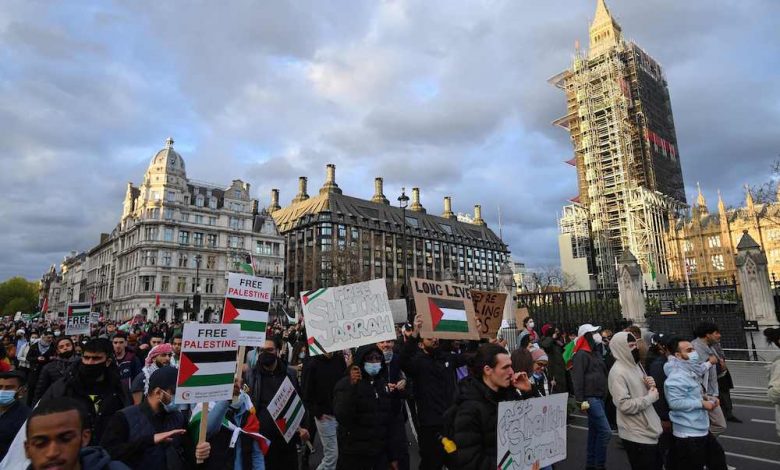 Large protests were held in solidarity with Palestinians around the world, including in London, as well as in Muslim-majority countries including Kuwait, Oman, Pakistan, Tunisia and Turkey.
Israel's Supreme Court postponed a key ruling Monday that could have forced dozens of Palestinians from their homes, citing the "circumstances."
The recent round of violence began when Israel blocked off a popular spot where Muslims traditionally gather each night during Ramadan at the end of their daylong fast. Israel later removed the restrictions, but clashes quickly resumed amid tensions over the planned eviction of Palestinians from Sheikh Jarrah.
The tensions in Jerusalem have threatened to reverberate throughout the region. 
Protesters gathered outside Downing Street, the residence of Prime Minister Boris Johnson against an Israeli court ruling to evict Palestinian families from their homes in Sheikh Jarrah neighborhood in east Jerusalem.
In Jordan, protesters gathered outside the Israeli embassy, burning Israeli flags and chanting "Shame, shame the embassy is still there" and "Death to Israel!"
Palestinians scuffled again with Israeli officers in riot gear on Tuesday evening, although less intensely than on previous nights.
Palestinian man Siraj, 24, said he had suffered a spleen injury from a rubber bullet fired by the police.
"They shot everyone, young and old people," he said.
Amnesty International has accused Israel of using "abusive and wanton force against largely peaceful Palestinian protesters."