Greece, Egypt close to Sign Deal on Demarcating Maritime Borders in Hours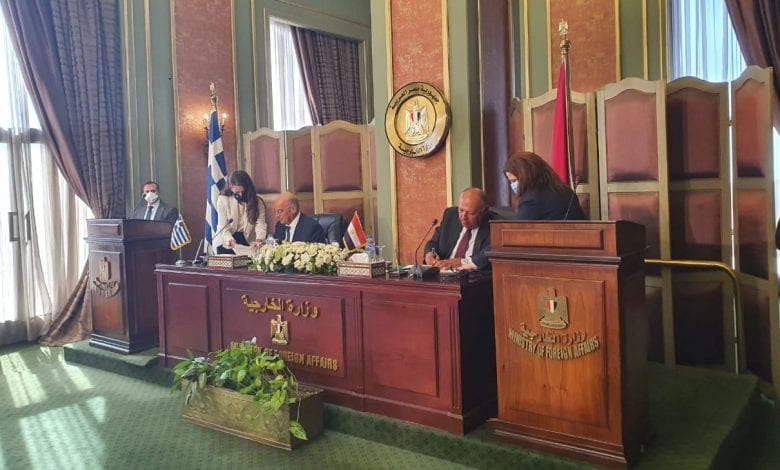 Nikos Dendias met with Egypt's President Abdel Fattah al-Sisi, public broadcaster ERT reported and he is scheduled to meet later with Egyptian counterpart Sameh Shoukry.
Greek Foreign Minister Nikos Dendias is in Egypt on an official visit to review an agreement for the demarcation of the maritime borders between the two countries, according to Greek diplomatic sources.
Negotiations between Athens and Cairo continued through the night and few pending issues were left on Thursday morning, the sources said.
Egypt's Foreign Minister Sameh Shoukry and his Greek counterpart, Nikos Dendias, on Thursday signed an agreement on the demarcation of maritime borders between Egypt and Greece, and are set to hold a press conference following their talks in the Egyptian capital, Cairo.
Shoukry received Dendias to discuss ways to enhance bilateral relations and review issues of mutual concern, Foreign Ministry Spokesman Ahmed Hafez said.
The two ministers held an official session of talks, which is set to have discussed latest updates in Libya and the Eastern Mediterranean region.
Dendias last visited Egypt on June 18.
Egypt Today to provide further details once the press conference is held.
Late in July, Ambassador of Greece to Egypt Nikoaos Garilidis told Al-Ahram Weekly that Egypt and Greece would sign a deal on demarcation of maritime borders in the Mediterranean Sea's exclusive economic zone (EEC) areas.
"We are close, very close," to a deal," he was quoted as saying by the newspaper one week earlier.  As per the deal, both countries would start getting benefits from the resources of natural gas in the Mediterranean Sea.
In July 2020, President Abdel Fattah El Sisi met Dendias, discussing the enhancement of the bilateral relations on all levels, according to a statement from the Egyptian Presidency.