Hamas' armed wing ambushes armored IOF force, forces it to withdraw
The ambush was set east of Khan Yunis after the Israeli force infiltrated the fence and advanced a few meters.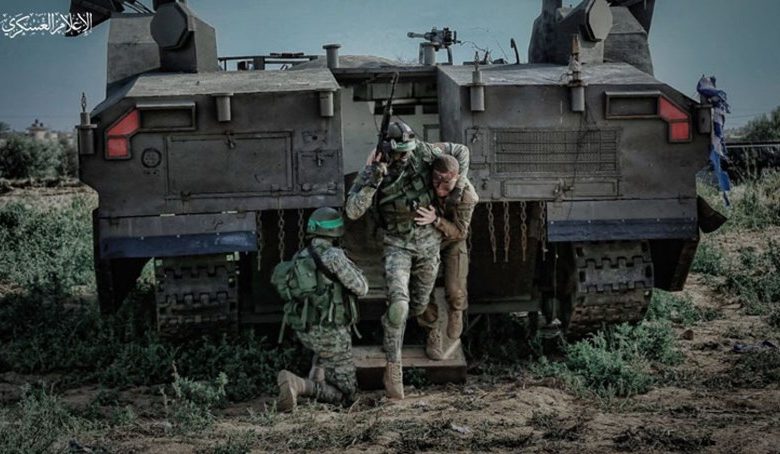 The Martyr Izz al-Din al-Qassam Brigades, Hamas' military wing, announced on Sunday that its freedom fighters ambushed an armored Zionist force east of Khan Yunis after it had infiltrated the fence and advanced a few meters.
Al-Qassam Brigades said in a statement, "Al-Qassam freedom fighters lured an armored Zionist force into a tight ambush east of Khan Yunis after infiltrating the fence and advancing several meters." The statement added that the freedom fighters engaged the invading force, destroyed two bulldozers and a tank, and forced it to withdraw.
"Our freedom fighters confirm that the Israeli soldiers who were lured into the Khan Yunis ambush left their vehicles and fled east of the fence – that shall be uprooted once day – on foot."
The Israeli occupation admitted that there were casualties among its soldiers in the ambush, saying one soldier was killed and three others were injured, as per the IOF spokesperson. 
Meanwhile, al-Qassam Brigades launched a salvo of missiles at the "Netivot" settlement in response to the Zionist massacres against civilians in Gaza.
Israeli media acknowledged that two people were wounded in the bombing of the "Netivot" settlement, one of whom is in serious condition after an anti-tank missile was fired from Gaza.
On its part, the National Resistance Brigades (the forces of Martyr Omar al-Qasim) showered the "Kissufim" military site with mortar shells.
Israeli media reported that a guided missile was launched from the Gaza Strip toward a vehicle in the "Kissufim" area, confirming casualties among the Israeli army.
Meanwhile, Al-Qassam Brigades continues to target settlements all the way to "Tel Aviv" and occupied al-Quds, in retaliation for the innocent lives claimed by the IOF in its ongoing massacres. 
The National Resistance Brigades also confirmed that the "Sufa" military support site was targeted with mortar shells. A salvo of missiles was also launched at "Ashdod", "Kiryat Malakhi", "Kiryat Gat", and "Bet Shemesh".