Houthis Confiscate Israeli Ship, Prompting International Concern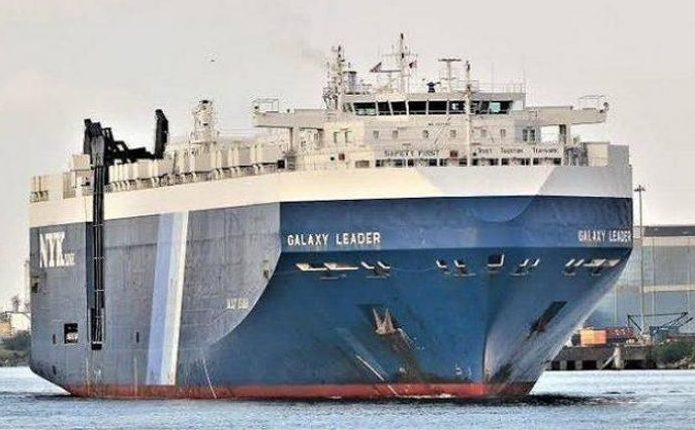 In a development that has raised international alarm, the Houthi forces have declared the detention of an Israeli cargo ship, a move that Israel is categorizing as a highly significant incident on a global scale. The vessel in question, identified as "Galaxy Leader," was intercepted by Yemeni naval forces in the Red Sea, as reported by Yemeni media, citing sources within the Sana'a government. The ship, reportedly manned by a crew of 22 sailors, is currently at the center of a tense international situation.
Sources from Al Mayadeen channel indicate that Yemeni naval forces have apprehended 52 individuals who were on board the Israeli vessel at the time of its interception in the Red Sea. As part of ongoing investigations, the ship's crew and passengers are being scrutinized, and their nationalities are being verified by Yemeni authorities.
An Israeli source, quoted by the "Walla" website, confirmed the Houthis' seizure of the ship and clarified that the vessel is partially owned by Israeli interests. Notably, Israeli estimates suggest that there are no Israeli citizens among the crew or passengers aboard the detained ship.
Additional reports from Israel shed light on the ownership structure of the seized vessel. The ship is said to be the property of Ray Shipping, a company belonging to Israeli entrepreneur Rami Ungar. However, it is important to note that the ship is currently leased to a Japanese company. All crew members on board are reported to be of Japanese nationality, dispelling any notion of Israeli involvement among the ship's personnel.
The spokesperson for the Israeli army emphasized the gravity of the situation, describing the hijacking of the cargo ship by the Houthis near Yemen in the Red Sea as a matter of serious international concern. The spokesperson reiterated that the vessel, despite being partially Israeli-owned, has no Israeli citizens on board. The ship's origins trace back to Turkey, and it was en route to India with a completely international crew.
As diplomatic tensions escalate and concerns heighten, the international community closely watches the unfolding events surrounding the detained Israeli ship, recognizing the potential ramifications on regional stability and global maritime security.