Impact of Ukraine war on French elections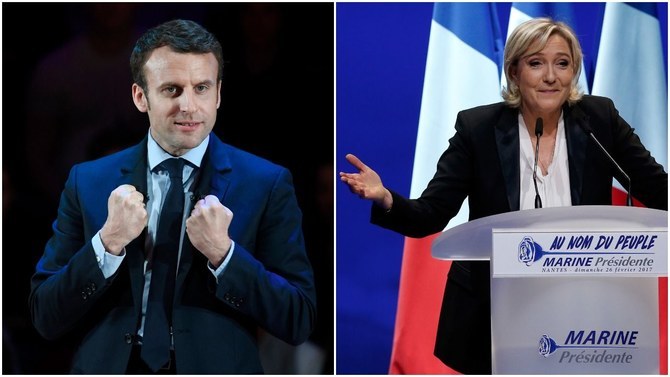 The EU reportedly plans to introduce a phased embargo on Russian oil, but negotiations over this will not begin before the presidential election in France.
The first round of the 2022 elections was on April 10, and a runoff will be held between the two remaining candidates — Emmanuel Macron and Marine Le Pen — on April 24. The reason for the pause is that EU member states want to be sure that the increase in fuel prices in Europe (in the event of an earlier embargo) will not play into the hands of Le Pen and prevent Macron from being re-elected. Indeed, the war in Ukraine has already affected the leader of the National Front party's campaign by reorienting her campaign to focus on the issue of purchasing power.
What is the primary concern of the EU regarding the French elections, and the possibility of Le Pen's victory? What are scenarios or implications for each candidate in relation to the Ukraine-Russia conflict?
In comparison to the 2017 elections, Le Pen has changed her rhetoric; at that time she demonstrated a more pro-Russian stance but now she has positioned herself closer to the Western bloc's position.
In the run-up to the 2017 presidential elections, which she ultimately lost to Macron in the second round, Le Pen traveled to Moscow and met Putin. In 2014, she expressed support for Russia's annexation of Crimea. Today, she has distanced herself from Russian President Vladimir Putin. She has also welcomed Ukrainian refugees into the country, in stark contrast to far-right candidate Eric Zemmour, whose ratings dropped after he refused to budge from his fierce anti-immigration stance.
Militarily, her stance perhaps still concerns European leaders, as Le Pen reaffirmed her intention to repeat France's 1966 move of leaving NATO's integrated military command, while adhering to its key Article 5 on mutual protection. She believes there should be a "strategic rapprochement" between NATO and Russia once the war in Ukraine has ended.
In European policy, her priorities are to end Franco-German military cooperation, including future warplane and tank programs. Le Pen warns against sending weapons to Ukraine, against a backdrop of €100 million in weapons having already been sent by France. At the same time, she has changed her position on the possibility of a "Frexit" along the lines of Brexit; this is no longer on the agenda. Instead, she stresses a desire to reform the EU. This might mean Le Pen's victory would lead to less diplomatic integration between France and other EU members, or a search for an alternative model which is neither Frexit nor a close collaboration with the EU. Such considerations may in turn affect policies toward the Ukraine-Russia war on the diplomatic level.
Her emphasis on better ties with Russia would also aim to prevent Moscow from becoming too close to China, since it is in part European, and US coolness is seen as driving these two powers into collaboration. Despite distancing herself from Putin in comparison to 2017, Le Pen presents herself as being in a unique position to further dialogue with Russia compared to other European leaders.
Indeed, the war in Ukraine has already affected the leader of the Front National party's campaign by reorienting her campaign to focus on the issue of purchasing power.

Dr. Diana Galeeva
Against this agenda of change, Macron would presumably continue many of his existing policies and activities, including his shuttle diplomacy that has included several talks with Putin and his Ukrainian counterpart Volodymyr Zelensky. In this, he has been benefiting from a strategy of "rallying around the flag," as uniting the three positions he is currently holding — French president, a presidential candidate, and president of the Council of European Union — into one. In other words, keeping a strong diplomatic balance of positions toward the Ukraine-Russia war is expected.
Despite the very close results of the first round (27.8 percent for Macron and 23.1 percent for Le Pen), Macron is still expected to have a majority in the final standings. Nonetheless, the continued support for Le Pen in France shows the presence of populist ideas in France. This is partly a factor in the importance of the war in Ukraine to the election debate, since big narratives of statehood and France on the global stage have come to the fore. These counter-narratives will need to be addressed domestically and at the European level. Overall — and barring a surprising outcome in the elections — it appears that France will continue its diplomatic collaboration with EU partners over Ukraine, in economics, finance and military matters.